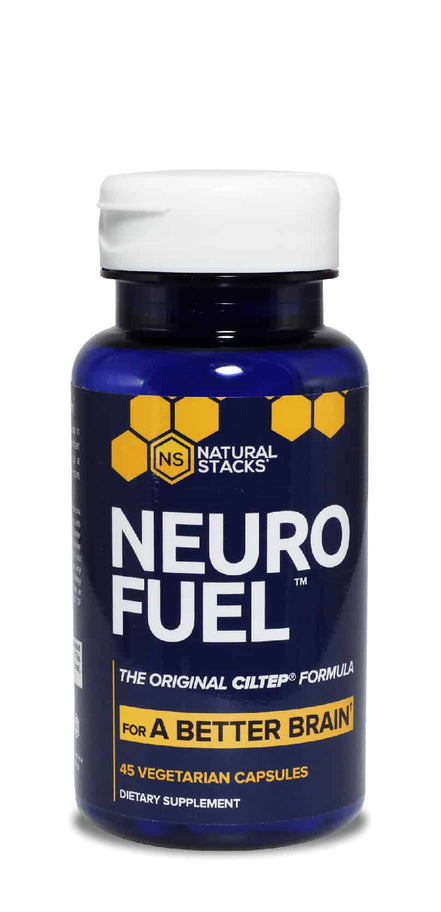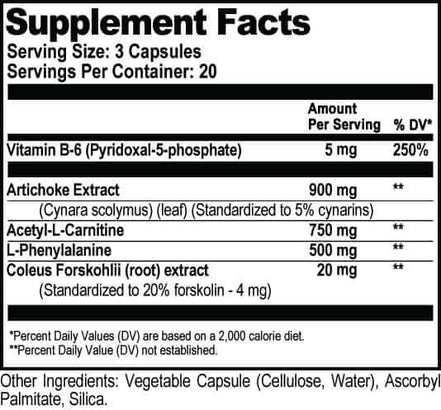 Shipping across Europe
We ship to 32 countries in Europe
Neurofuel
Neurofuel (formerly CILTEP) is Natural Stacks' leading nootropic stack supplement. For mental performance, learning ability, memory and energy. 45 capsules for 15 servings.
Regular price
Sale price
€34,95
Unit price
per
---
Fast delivery throughout the EU
We ship to 32 countries
Natural Stacks leading nootropic stack supplement
Neurofuel is the new name for Natural Stacks leading supplement, previously called CILTEP. Neurofuel contains natural ingredients that support mental performance. Its purpose is to influence the internal signal transmission in the nerve cells themselves, rather than your neurotransmitters. It is possible to feel the effects after just 30 minutes.
Vitamine B6 as pyridoxal-L-phosphate
Neurofuel contains pyridoxal L-phosphate, a directly active form of vitamin B6. Vitamin B6 contributes to the normal functioning of the nervous system and supports mental functions, such as learning ability, memory, concentration and reasoning ability. Vitamin B6 also helps to generate energy from fats, carbohydrates and proteins and to reduce tiredness and fatigue.
Artichoke extract
Artichoke (Cynara scolymus) is a vegetable that is common in the Mediterranean area and has been eaten there since ancient times. The 'flower' of the artichoke is most commonly used. Artichoke contains several interesting substances. The substance luteoline is of particular interest for the applications of Neurofuel.
Coleus forskohlii extract
Coleus forskohlii is a herb with Ayurvedic applications. The forskolin substance makes it interesting as part of Neurofuel.
L-Phenylalanine and Acetyl-L-Carnitine
Phenylalanine and carnitine are essential amino acids. Phenylalanine is a precursor to a number of important substances, such as neurotransmitters. Carnitine is part of the mitochondria. Acetyl-L-Carnitine crosses the blood-brain barrier more easily than other forms of carnitine.
Natural Stacks quality
Natural Stacks make the formulation of their supplements completely public. You can find out exactly which ingredients they use for Neurofuel and what the results of their independent tests are. Natural Stacks chooses the highest quality, most active ingredients, something you can check for yourself. Neurofuel is free from gluten and GMOs and is suitable for vegetarians, vegan and paleo.
All the benefits of Natural Stacks Neurofuel
Nootropic stack supplement for mental performance
The same formula from CILTEP with a new look
You notice the effect 30 minutes after ingestion
Fully transparent formula with the highest quality ingredients
100% natural ingredients.
Suitable for paleo and vegans
Free from gluten and GMOs
Ingredients & Usage
Take 1-3 capsules in the morning immediately after getting up on an empty stomach or as recommended by a health care professional. Do not take more than 3 capsules per day.
Some users experience prolongation or improvement in the effect of Neurofuel when they take a moderate serving of caffeine in the morning or early afternoon.
You can take Neurofuel every day, but Natural Stacks recommend taking a break in use 1-2 days a week (weekends for example).
One jar of Natural Stacks Neurofuel contains 45 capsules, sufficient for 15 servings.
| Ingredients per serving | 3 capsules. | % RDA |
| --- | --- | --- |
| Vitamin B6 (Pyridoxal-5-phosphate) | 5 mg | 357% |
| Artichoke (Cynara scolymus) leaf extract (standardised at 5% cynarines) | 900 mg | * |
| Acetyl-L-Carnitine | 750 mg | * |
| L-Phenylalanine | 500 mg | * |
| Coleus forskohlii root extract (standardised at 20% forskolin) | 20 mg | * |
| - Forskolin | 4 mg | * |
RDA = standard recommended daily intake based on a daily intake of 2000 kcal.
* RDA unknown
Other ingredients:
Plant-based capsule (cellulose, water), ascorbyl palmitate, silicon
Allergy information
No allergens listed
Natural Stacks Neurofuel is a dietary supplement in the category of herbal preparations and is not a substitute for a varied and balanced diet and/or healthy lifestyle.
Store in a dry, cool and dark place.
Warning
Do not exceed the recommended dose.
Do not use if the package seal is damaged when purchased.
First consult your doctor if you are being treated for a medical condition, are pregnant or breastfeeding.
Keep out of reach of children.
Manufacturer
NS 360 Inc.
4241 24th Ave W.
Seattle, WA 98199
United States
Imported by
LiveHelfi
d'n Office
Loopkantstraat 25
5405 AC Uden
The Netherlands