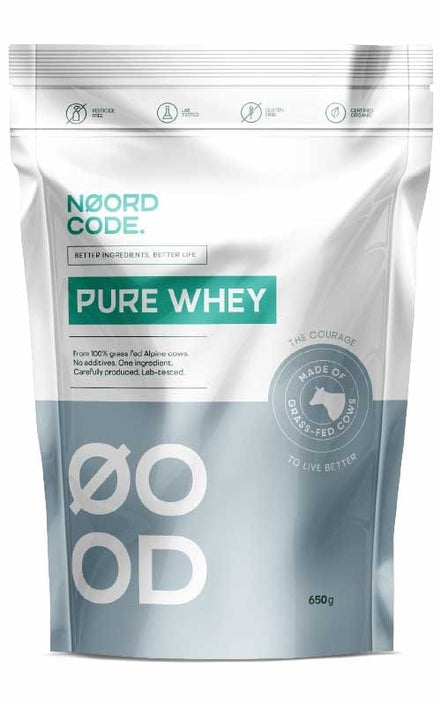 Shipping across Europe
We ship to 32 countries in Europe
Organic Pure Whey
NoordCode Pure Whey is organic, pure whey protein concentrate from grass-fed cows from the Alps. 80% protein. For muscle maintenance, growth and recovery. Only whey protein concentrate, with no additives. 650 g, for about 21 servings of 30 g.
Regular price
Sale price
€39,95
Unit price
per
---
Fast delivery throughout the EU
We ship to 32 countries
NoordCode Pure Whey
Organic, 100% whey protein from grass-fed cows from the Alps
Whey protein concentrate: 80% protein
Complete protein with favourable profile of essential amino acids

Use after sport for muscle recovery
Incorporate into drinks and use as a baking ingredient
Whey protein as a protein supplement
Whey is the part of milk that remains liquid after adding rennet, such as in making cheese. Whey protein is very popular as a protein supplement due to the protein's good bioavailability and complete amino acid profile. You can choose from a huge variety of whey protein. Quality varies enormously and NoordCode Pure Whey strives to offer the highest quality whey protein.
Add extra protein to meals and drinks
Whey powder is an easy way to add more protein. It contains all the essential amino acids, making it a complete protein. Whey protein is generally highly digestible.
Many athletes use whey protein as a basic supplement. A protein supplement supports muscle growth and recovery after training and sport. It provides all the essential amino acids in favourable proportions for muscle building. If you train or sport yourself, whey protein helps with recovery.
Versatile in use
Whey protein can be used in a variety of ways:
Make a protein shake with it with water/milk and a nice flavour
Mix it with your smoothie for a satiating drink
Stir it into a bowl of yoghurt for a filling meal
Use it as a baking ingredient for pancakes or homemade protein bars
100% pure, organic whey protein
NoordCode Pure Whey is organically produced, pure whey protein concentrate. The milk comes from grass-fed cows grazing in the Alps. This is best for the cows, the environment and the quality of the whey protein.
Grass-fed, free-grazing cows from the Alps
The milk for NoordCode Pure Whey comes from cows that graze in the Alps. The cows eat only grass or grass products from pastures that have never been exposed to pesticides. They are raised according to organic guidelines and receive no hormones or antibiotics. As a result, the milk is of the highest quality.
Only whey protein, with no additives or flavours
Pure Whey contains only whey protein concentrate, as the name says. It contains no flavours or other additives. This makes it a versatile product that you can use in whatever way you like.
Independently tested
The purity and composition has been tested by an independent laboratory.
Whey protein concentrate: 80% protein
A whey protein powder never consists of 100% protein. Whey also contains carbohydrates, including lactose, and fats. You naturally want high levels of protein in a protein supplement. Whey protein concentrate consists of up to 80% protein by weight.
Soft processing without irradiation
NoordCode Pure Whey is prepared using gentle heating without irradiation. This keeps as much protein as possible intact while making the whey protein concentrate food-safe.
Ingredients & Usage
Mix 1 scoop (30 g) of powder in 200 mL water, (vegetable) milk or your desired drink.
One package of NoordCode Pure Whey contains 650 g, sufficient for approximately 21 portions.
Nutritional value
per portion
100 g
(% RI)
30 g
(% RI)
Energy
367 kcal
/ 1536 kJ
(18%)
110 kcal
/ 460 kJ
(6%)
Fats
0,2 g
(<1%)
0,06 g
(<1%)
o Saturated
0,1 g
(1%)
0,03 g
(<1%)
Carbohydrates
3,5 g
(1%)
1,05 g
(<1%)
o Sugar
3,5 g
(4%)
1,05 g
(1%)
Lactose
2-5%
2-5%
Protein
80,0 g
(160%)
24,0 g
(48%)
Salt
0,47 g
(*)
0,14 g
(*)
RI = Reference Intake.
* RI unknown
| Amino acids | 100 g |
| --- | --- |
| Essential amino acids | |
| Histidine | 1,51 g |
| Isoleucine | 5,36 g |
| Leucine | 9,19 g |
| Lysine | 7,97 g |
| Methionine | 1,95 g |
| Phenylalanine | 2,68 g |
| Threonine | 6,07 g |
| Tryptophan | 1,53 g |
| Valine | 5,03 g |
| Non-essential amino acids | |
| Alanine | 4,52 g |
| Arginine | 2,04 g |
| Aspartic acid | 9,29 g |
| Cysteine | 1,88 g |
| Glutamic acid | 15,0 g |
| Glycine | 1,52 g |
| Proline | 4,92 g |
| Serine | 4,35 g |
| Tyrosine | 2,57 g |
Ingredients:
100% organic whey protein (80% protein concentrate)
Allergy information
Contains lactose
Store dry, cool, away from light and outside of reach of young children.
Dietary supplement. Category: Proteins.
A varied and balanced diet and a healthy lifestyle are important. Food supplements are no substitute for a varied diet.
Warnings:
Do not use if outer seal is broken or damaged.
Made in Europe.
Manufacturer
NoordCode
Loopkantstraat 25
5405 AC Uden
The Netherlands