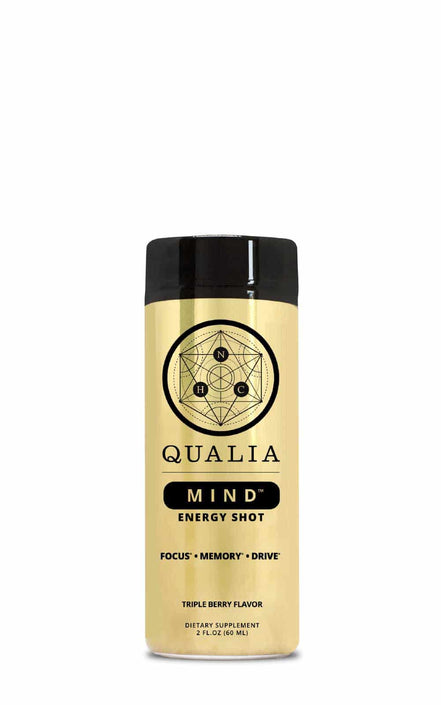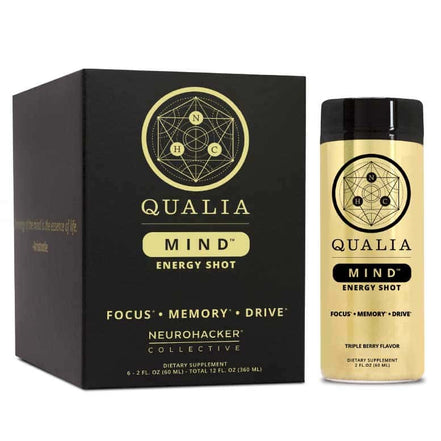 Shipping across Europe
We ship to 32 countries in Europe
Qualia Mind Energy Shot
Neurohacker Collective Qualia Mind Energy Shot is the energy drink of the Neurohacker Collective. 12 ingredients for fast and stable concentration and energy. 6 bottles of 60 mL.
Regular price
€25,95
Sale price
€22,05
Unit price
per
---
Fast delivery throughout the EU
We ship to 32 countries
Neurohacker Collective Qualia Mind Energy Shots
Low-sugar energy drink
12 high quality ingredients for mental performance
For concentration, learning performance and memory (through caffeine and vitamin B3)
With 90 mg of caffeine from coffee berries
Packaged in convenient portion-sized bottles
Fast mental energy
Qualia Mind Energy Shot is the 'energy drink' of Neurohacker Collective. The drink is low in sugar, unlike other energy drinks. The effect of Qualia Mind Energy Shots comes from the careful composition of 12 ingredients that work closely together to improve mental performance.
Convenient portion bottles for on-the-go
Qualia Mind Energy Shot is perfect if you immediately need stable energy and concentration for sports or mental performance. It is packed per portion in bottles of 60 ml. This way you can easily take this mental booster with you. If you do not use everything, you can keep the rest in the fridge for another 3 days.
Tasty mixed berry flavour
Qualia Mind Energy Shot tastes like acai berries, blueberries and raspberry. The drink is lightly sweetened with coconut sugar.
The benefits of Qualia Qualia Mind Energy Shot
Vitamin B3 as niacinamide
plays an important role in nerve function
contributes to normal mental performance, memory functioning and learning performance
supports energy levels
supports the reduction of tiredness and fatigue
Caffeine from whole coffee berries
contributes to normal mental performance, memory functioning and learning performance
supports energy levels
Neurohacker Collective Qualia Supplements
Qualia is the supplement line of the Neurohacker Collective, an organisation dedicated to promoting mental performance. Their products also target organs and processes outside the brain. Every part of the body involved in mental performance falls within their area of interest.
Qualia supplements are carefully formulated based on scientific research into each ingredient.
Ingredients & Use
Take 1-2 servings of Qualia Mind Energy Shot daily or when you need extra energy. Take Qualia Mind Energy Shot in the morning or early afternoon. Later in the day it can disrupt your sleep (due to the stimulating effect).
With daily use, take Qualia Mind Energy Shot 5 days a week and pause intake 2 days a week to get the best performance. This prevents you from getting habituated to it. Break days do not have to be consecutive.
Qualia Mind Energy Shot can be taken simultaneously with Qualia Life, Qualia Mind or Qualia Mind Essentials.
After opening, Qualia Mind Energy Shot can be stored in the fridge for up to 3 days.
One package of Neurohacker Collective Qualia Mind Energy Shot contains 360 mL, sufficient for 6 portions.
| Nutritional value per portion | 60 mL (1 bottle) | % RI |
| --- | --- | --- |
| Energy | 15 kcal / 63 kJ | 1% |
| Carbohydrates | 4 g | 2% |
| o Sugar | 4 g | 4% |
Composition
per portion
60 mL
(1 bottle)
% RI
Niacinamide (vitamin B3)
25 mg NE
156%
Inositol-reinforced
bound Arginine Silicate
[nooLVL ™]
800 mg
*
Alpinia galanga
root extract [EnXtra®]
300 mg
*
N-acetyl L-tyrosine
250 mg
*
L-Tryptophan
250 mg
*
L-Theanine
200 mg
*
Alpha-glyceryl-
phosphorylcholine
(alpha GPC)
200 mg
*
Wild blueberry
(Vaccinium angustifolium)
fruit extract
200 mg
*
Whole coffee berry fruit
(Coffea arabica) extract
(organic) [Coffeeberry®]
130 mg
*
o Caffeine
90 mg
*
American Ginseng
(Panax quinquefolius)
root extract [Cereboost™]
100 mg
*
Celastrus paniculatus
seed extract
30 mg
*
Safrron (Crocus sativus)
stigma extract
3 mg
*
RI = Reference Intake.
* RI unknown
Ingredients:
Purified Water, Organic Coconut Sugar, Amino acids, Herbal and fruit extracts, Malic Acid, Natural Bitterness Masker, Potassium Sorbate, Sodium Benzoate, Natural Flavors (Blueberry, Açaî, Raspberry, Vanilla), Alpha-glycerylphosphorylcholine (alpha GPC), Vitamin B3 (niacinamide).
Allergy information:
No allergens listed.
Food supplement with 90 mg caffeine per portion. Not suitable for children under 18, during pregnancy or lactation.
Category: Vitamins, Herbs, Amino acids, Fats.
A varied and balanced diet and a healthy lifestyle are important. Food supplements are no substitute for a varied diet.
Warning:
Do not exceed recommended dose.
Do not use if outer seal is broken or damaged.
If you are undergoing treatment for a medical condition or if you are pregnant or lactating, please consult your medical practitioner first.
Made in: United States
Manufacturer
Neurohacker Collective, LLC
179 Calle Magdalena Suite 100
CA 92024 Encinitas
United States
Imported by
LiveHelfi
Loopkantstraat 25
5405 AC Uden
The Netherlands