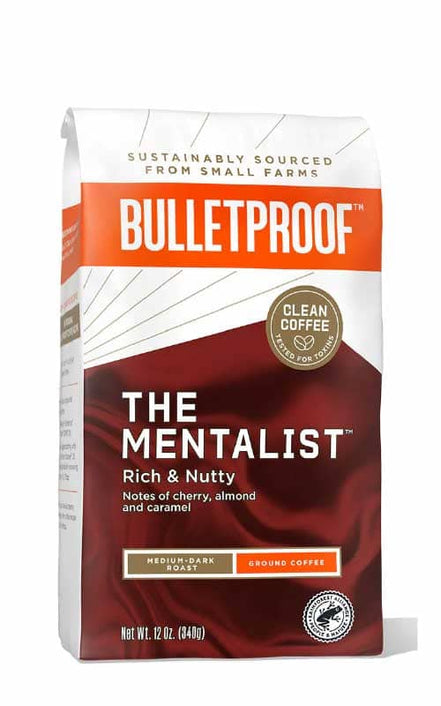 Shipping across Europe
We ship to 32 countries in Europe
The Mentalist Ground Coffee 340 gram
Bulletproof The Mentalist Medium Dark Coffee: flavours of dark cocoa and vanilla aromatics open up to a rich, full-bodied coffee with cherry sweetness and notes of almond and caramel. 1 bag with 340 grams of ground coffee. Packaging may vary.
Regular price
Sale price
€19,95
Unit price
per
---
Fast delivery throughout the EU
We ship to 32 countries
Bulletproof The Mentalist Coffee: Medium Dark Roast
Why Bulletproof Coffee has such high quality
Bulletproof coffee is the result of a pursuit by the American biohacker Dave Asprey to find the best coffee beans in the world. After 10 years of research, he was able to identify the toxin formation in the production process of coffee. He excluded these toxic substances to get the perfect source of beans. The Bulletproof process reduces the production of these toxic compounds on coffee beans for a clean cup of coffee.
Bulletproof coffee processing
The coffee beans are grown at altitude in Colombia and Guateamala at farms that don't use chemicals such as pesticides. Each coffee berry is hand picked by experienced pickers, who only pick the perfectly ripe berries. This selection process largely determines the quality of the resulting coffee. Other (mechanised) forms of harvesting also collect unripe berries.
Most coffee processing leaves the coffee berries to dry in the sun, or ferments them to remove the outer layers from the coffee bean. This can introduce moulds that produce harmful toxins. Bulletproof coffee is processed in a special way in which the harmful moulds, bacteria and toxins are avoided.
Once the beans are processed, they are shipped to the US for roasting. Roasting improves the flavour and allows you to make a tastier cup of coffee.
The Mentalist Medium Dark roasted coffee
The Mentalist Dark Roast Coffee tastes delicious: Dark cocoa and vanilla aromatics open up to a rich, full-bodied coffee with cherry sweetness and notes of almond and caramel.
Other roasts and versions
Bulletproof Coffee is also available in the following roasts and versions:
Ingredients & Usage
One bag of Bulletproof The Mentalist Coffee Ground contains 340 grams.
Bulletproof Coffee recipe
Dave Asprey, the Bulletproof executive, is famous for his Bulletproof coffee. Simply take two cups of coffee, two tablespoons unsalted grass-fed butter and two tablespoons MCT oil. Mix this in a blender until a creamy layer is formed. Pour the coffee into a cup and enjoy. By starting your day with two cups Bulletproof coffee, you do not need breakfast and you have no hunger until noon.
In this video Dave demonstrates how to make Bulletproof coffee
Store in a cool and dry place, away from light.
Manufacturer
Bulletproof 360, Inc
1750 112th Avenue NE
Suite C-424
Bellevue, WA 98004
United States
Imported by
LiveHelfi
d'n Office
Loopkantstraat 25
5405 AC Uden
The Netherlands