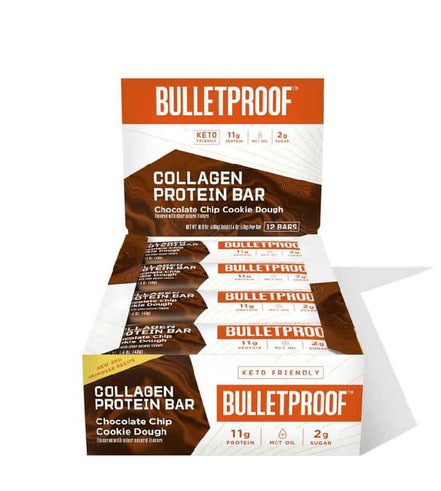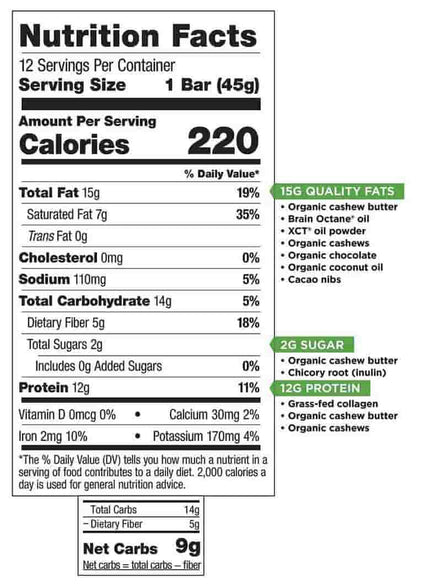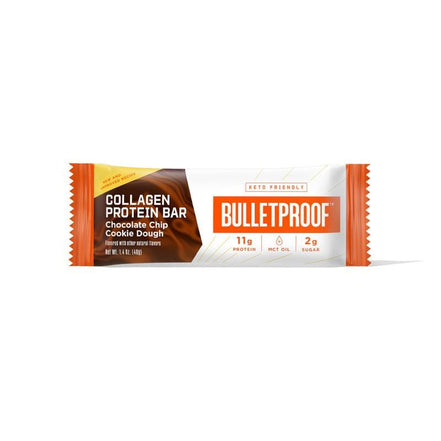 Shipping across Europe
We ship to 32 countries in Europe
Protein Bars Chocolate Chip Cookie Dough
Bulletproof Collagen Bars Chocolate Chip Cookie Dough: Keto-friendly protein bars made with grass-fed collagen and Bulletproof MCT oil. Box with 12 bars of 40 grams.
Regular price
Sale price
€44,95
Unit price
per
---
Fast delivery throughout the EU
We ship to 32 countries
Why Bulletproof Collagen Protein Bars?
Protein bars can vary greatly in composition and quality. The protein usually comes from whey protein isolate and the bars often contain a lot of sugar. People following a low-carb diet won't be able to use most protein bars for this reason. In addition, not everyone tolerates whey protein, for example, due to sensitivity to milk protein or sugars.
Bulletproof makes protein bars with collagen from grass-fed cattle. This is animal protein but comes from the skin of cows. Bulletproof's collagen protein is enzymatically processed, making it easy to digest. Bulletproof protein bars contain high-quality fats as the main source of energy instead of carbohydrates. These fats come from cashew and coconut. Some of these fats are medium chain triglycerides (MCTs) (capric and caprylic acid) derived from refined coconut oil.
The combination of protein, fat and a low carbohydrate content makes these bars very satiating. One bar is enough to satisfy hunger for a while.
Benefits of Bulletproof Collagen Bars Chocolate Chip Cookie Dough
11 grams of protein per bar
Made with pasture-raised collagen protein
Contains MCT and Brain Octane oil, which are both high-quality MCT oils
Popular American Flavour: cookie dough and chocolate chips
Protein from collagen and nuts
Sweetness from natural sweeteners, no added sugars
Fits in a Bulletproof / LCHF / ketogenic / paleo diet
Contains prebiotic inulin fibres from cichory
Perfect snack that keeps you full and focused
Convenient travel snack
No dairy, no gluten, non-GMO
Chocolate Chip Cookie Dough flavour
The Bulletproof Collagen Bars Chocolate Chip Cookie Dough taste like the cookie dough used to make chocolate chip cookies. Bulletproof uses vanilla extract, dark chocolate chips and cocoa nibs for this popular American flavour.
Bulletproof Collagen Bars are also available in the flavours:
The chocolate-coated bars (Chocolate Dipped Collagen Bars) are also available in the flavours:
Ingredients & Usage
One box of Bulletproof Collagen Bars Chocolate Chip Cookie Dough contains 12 bars of 40 grams each.
| Nutritional value per portion | 40 g (1 bar) | % RDA |
| --- | --- | --- |
| Energy | 190 kcal | 10% |
| Fats | 12 g | 36% |
| - Saturated | 6 g | 30% |
| Carbohydrates | 4 g | 2% |
| - Sugar | 2 g | 2% |
| Fibre | 8 g | * |
| Protein | 11 g | 22% |
| Salt | 0.085 g | 2% |
RDA = standard recommended daily intake based on a daily intake of 2000 kcal.
* RDA unknown
Additional ingredients:
Cashew butter, inulin, hydrolyzed collagen, MCT oil powder (caprylic and capric acid triglycerides from highly refined coconut oil, tapioca dextrin), organic unsweetened chocolate, cashew meal, sunflower lecithin. Less than 2% of: organic cacao nibs, safflower or sunflower oil, vanilla extract, sea salt, organic stevia leaf extract, natural flavour.
Allergy information
contains nuts
Store in a cool and dry place, away from light.
Bars with MCT oil become soft at temperatures above 25 °C. Store at room temperature or in the fridge.
Warnings:
Do not use if outer seal is broken or damaged.
Manufacturer
Bulletproof 360, Inc
1750 112th Avenue NE
Suite C-424
Bellevue, WA 98004
United States
Imported by
LiveHelfi
d'n Office
Loopkantstraat 25
5405 AC Uden
The Netherlands