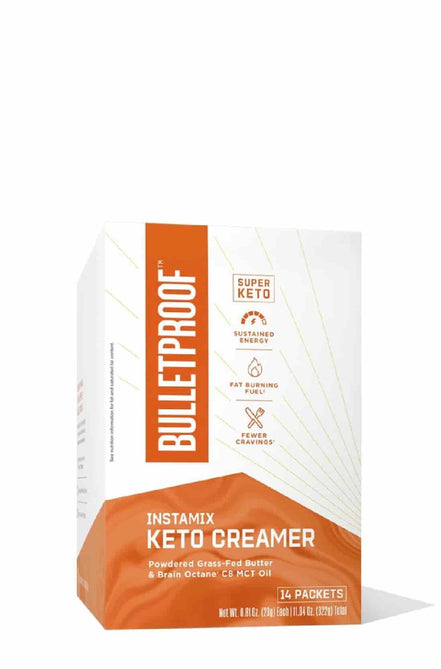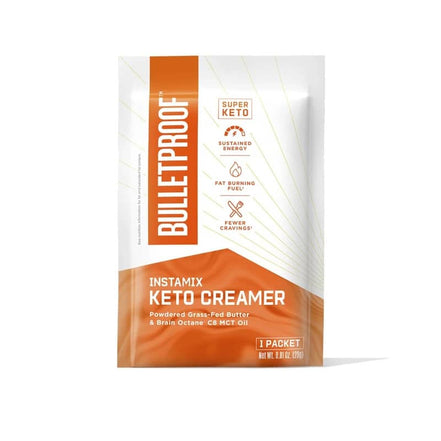 Shipping across Europe
We ship to 32 countries in Europe
Instamix Keto Creamer
High performance keto-friendly creamer to instantly make Bulletproof Coffee anywhere. Contains 14 single-serve packets (23 g). Each packet contains 2 teaspoons of Brain Octane & Grass-Fed Butter.
Regular price
Sale price
€42,95
Unit price
per
---
Fast delivery throughout the EU
We ship to 32 countries
What is Bulletproof InstaMix Keto Creamer?
Bulletproof InstaMix Keto Creamer is more than just coffee creamer. It provides you sustained energy from quality fats, to upgrade your morning and power your day. InstaMix Keto Creamer is a combination of Bulletproof Brain Octane Oil and grass-fed butter in a convenient powder that dissolves quickly in hot drinks, such as coffee. This keeps you Bulletproof, wherever you go!
Unique C8 MCTs in Brain Octane, the most effective medium-chain triglycerides found in the heart of the coconut, are quickly and easily absorbed by the body. Rather than stored as fat, they travel directly to the liver, where they are used as energy.
Why InstaMix Keto Creamer?
We know it's not always convenient to make Bulletproof Coffee with a blender and refrigerated butter. Your busy life calls for something more convenient, and InstaMix Keto Creamer is the answer. It is designed as a quick fix for your mornings on the go. Sugar-free, all natural, non-GMO, and gluten-free.
Bulletproof InstaMix Keto Creamer is great if you want to:
Perform better
Have a quick and powerful breakfast solution
Stay Bulletproof on-the-go
Shave a few minutes off their morning Bulletproof routine
Single serve packets instantly mix into freshly brewed Upgraded Coffee
If you want a creamer for home use that you can dose yourself, consider the Bulletproof Creamer. It is made with grass-fed butter and MCT oil and comes in a jar of 420 grams.
Ingredients & Usage
Use Bulletproof InstaMix Keto Creamer to make Bulletproof coffee without a blender. Brew 8 oz / 230 mL of coffee and pour in one packet of InstaMix Keto Creamer, or more as desired. For best results, shake InstaMix Keto Creamer and coffee in a sealed shaker. Alternatively, stir until well mixed, although this takes longer. Same for cold smoothies.
One box of Bulletproof InstaMix Keto Creamer contains 14 packets of 23 g.
| Nutritional value per portion | 23 g (1 packet) | % RDA |
| --- | --- | --- |
| Energy | 160 kcal | 8% |
| Fats | 16 g | 23% |
| -Saturated | 13 g | 65% |
| Carbohydrates | 3 g | 1% |
| - Sugar | < 1 g | 1% |
| Fibre | 2 g | * |
| Protein | < 1 g | 2% |
| Salt | 0.055 g | 1% |
RDA = standard recommended daily intake based on a daily intake of 2000 kcal.
* RDA unknown
Ingredients:
Caprylic Acid Triglycerides (Brain Octane Oil), Grass-fed Butter, resistant dextrin, acacia gum, non-GMO sunflower lecithin.
Allergy information
Contains milk. Processed in a facility that also processes wheat and soy.
Store in a cool and dry place, away from light.
Bulletproof InstaMix Keto Creamer is a dietary supplement that falls within the category of Fats and is no replacement for a healthy and balanced diet and/or lifestyle.
Warnings:
Keep out of reach of children.
Do not exceed recommended dose.
Do not use if outer seal is broken or damaged.
If you are undergoing treatment for a medical condition or if you are pregnant or lactating, please consult your medical practitioner first.
Manufacturer
Bulletproof 360, Inc
1750 112th Avenue NE
Suite C-424
Bellevue, WA 98004
United States
Imported by
LiveHelfi
d'n Office
Loopkantstraat 25
5405 AC Uden
The Netherlands