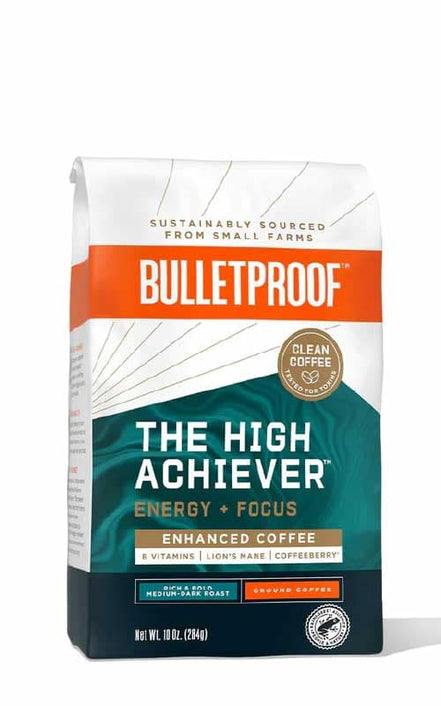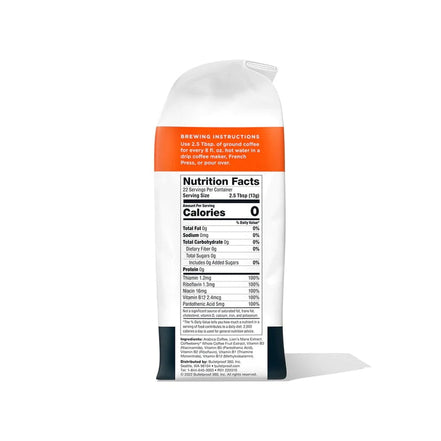 Shipping across Europe
We ship to 32 countries in Europe
The High Achiever Ground Coffee
Bulletproof Coffee The High Achiever Ground is mycotoxin-free, ground Arabica coffee enriched with B vitamins, Lion's Mane and CoffeeBerry®. Medium-dark roast. Ground for French Press, filter or pour-over. 284 g for 22 servings.
Regular price
Sale price
€21,95
Unit price
per
---
Fast delivery throughout the EU
We ship to 32 countries
Bulletproof Coffee The High Achiever Ground
Toxin-free, ground, medium-dark roast coffee
Arabica coffee, sourced from Rainforest Alliance certified small farms
Enriched with B vitamins, CoffeeBerry® and Lion's Mane extract

175 mg caffeine per 13 g
83-109% RI of vitamins B1, B2, B3, B5 and B12 per 13 g
Toxin-free Arabica coffee
Bulletproof coffee began with American biohacker Dave Asprey's search for functional coffee without a crash. He identified mould toxins (mycotoxins) as a cause of the crash. Such mould toxins can arise from careless processing or storage of coffee beans.
The Bulletproof process reduces the production of mould toxins. The coffee is also tested for and free of toxins. Therefore, you will not experience a crash due to mycotoxins after your cup of coffee.
Smooth, intense, medium-dark roasted Arabica coffee
The High Achiever coffee is Arabica coffee. The coffee comes from small farms with Rainforest Alliance certification. The beans are medium-dark roasted for a smooth, intense taste. The grind is suitable for French Press, filter coffee and pour-over coffee.
Extra support from B vitamins
The High Achiever is enriched with vitamins B1, B2, B3, B5 and B12. Per 13 g of ground coffee, it provides 100% of the American daily recommended intake for each B vitamin. This corresponds to 83-109% of the European reference intakes, depending on the vitamin. This means that this coffee offers additional benefits over and above a nice caffeinated drink, such as:
Supporting your energy level.
Vitamins B1, B2, B3, B5, B12
Help reduce fatigue and tiredness.
Vitamins B2, B3, B5, B12
Help ensure proper functioning of the nervous system.
Vitamins B1, B2, B3, B12
Contributes to normal mental performance such as memory, learning and concentration. Vitamins B1, B3, B12, Caffeine†.
† Health claim subject to approval by the European Commission.
175 mg caffeine per cup
Bulletproof The High Achiever coffee contains 175 mg of caffeine per 13 g, higher than normally found in Arabica coffee. This is because part of the caffeine comes from CoffeeBerry® whole fruit extract. Coffee fruit is a natural source of caffeine to give your cup of coffee even more impact.
With Lion's Mane extract
Lion's Mane (Hericium erinaceus) is a popular mushroom. Its long, soft spines give it the appearance of a lion's mane. Extracts of Lion's Mane have a somewhat bitter, earthy taste. This taste is less noticeable when combined with coffee. Lion's Mane and coffee are used for the same purpose, so the combination works on several levels.
Other Bulletproof coffees
Bulletproof Coffee is also available in the following roasts and versions:
Ingredients & Usage
Brew with your preferred brewing method.
Ground suitable for French Press, filter coffee and pour-over coffee.
One package of Bulletproof Coffee The High Achiever Ground contains 284 g, sufficient for 22 portions.
Ingredients per serving
13 g
% RI
Thiamine
(Vitamin B1)
1,2 mg
109%
Riboflavin
(Vitamin B2)
1,3 mg
93%
Niacinamide
(Vitamin B3)
16 mg
100%
Methylcobalamin
(Vitamin B12)
2,4 μg
96%
Pantothenic
acid (Vitamin B5)
5 mg
83%
Caffeine
175 mg
*
Lion's Mane extract
(Hericium erinaceus)
RI = Reference Intake.
* RI unknown
Ingredients:
Arabica coffee, lion's mane extract, whole coffee fruit extract [Coffeeberry®], vitamins
Allergy information
No allergens listed
Store dry, cool, away from light and outside of reach of young children.
Dietary supplement. Category: Functional Foods.
A varied and balanced diet and a healthy lifestyle are important. Food supplements are no substitute for a varied diet.
Warnings:
Do not exceed recommended dose.
Do not use if outer seal is broken or damaged.
If you are undergoing treatment for a medical condition or if you are pregnant or lactating, please consult your medical practitioner first.
Made in the United States.
Manufacturer
Bulletproof 360, Inc
1750 112th Avenue NE
Suite C-424
Bellevue, WA 98004
United States
Imported by
LiveHelfi
d'n Office
Loopkantstraat 25
5405 AC Uden
The Netherlands