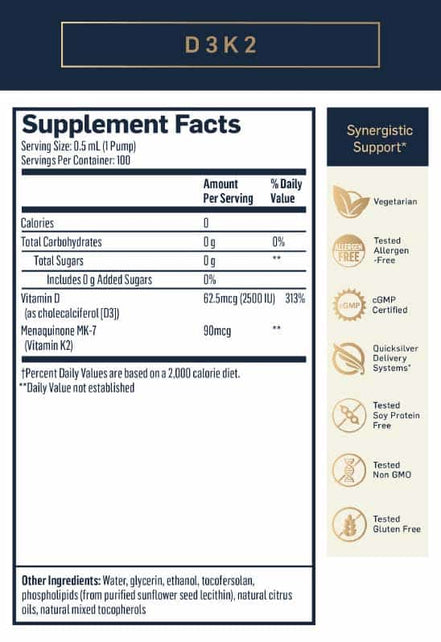 Shipping across Europe
We ship to 32 countries in Europe
Nanoemulsified D3K2
Quicksilver Scientific Nanoemulsified D3K2 contains active forms of vitamin D3 (cholecalciferol) and K2 (menaquinone-7) in a liposomal packaging for fast absorption and high level of bioavailability. For calcium, bones, teeth, resilience and muscles. Bottle of 50 mL for 100 doses.
Regular price
Sale price
€58,95
Unit price
per
---
Fast delivery throughout the EU
We ship to 32 countries
Quicksilver Scientific Nanoemulsified D3K2
Synergy of vitamin D3 and K2
Vitamin D is an important nutrient for our health and resilience. We call vitamin D a nutrient, but it's not actually present in a lot of food. You can make all the vitamin D you need yourself when you are exposed to direct sunlight. In the Netherlands, the sun is only bright enough to make vitamin D during the summer months. Use a supplement to also get all the benefits from vitamin D during the rest of the year. The body produces cholecalciferol (vitamin D3) and can easily absorb D3 from supplements.
Vitamin K has two forms that have distinct specialities and you should preferably get enough of both types. Vitamin K1 best supports the body's ability to form blood clots and is mainly found in vegetables. Vitamin K2 helps to keep the bones strong by supplying them with calcium. K2 is found in fermented foods, especially fermented soy products. These types of products can be difficult to fit into our diet. A supplement helps to ensure you get the right amount of vitamin K2.
Vitamin D regulates calcium intake from food and the absorption of this calcium by our bones and teeth. Vitamin D does this best in conjunction with vitamin K2. It is important to keep the intake of these vitamins in balance. That is why Quicksilver Scientific offers a combination supplement, so you can supplement these two vitamins in the right proportions.
The benefits of vitamins D and K
Vitamin D and K contribute to the maintenance of strong bones and vitamin D supports strong teeth
Vitamin D contributes to the absorption of calcium and phosphorus in your diet via the regular calcium and phosphorus levels in the blood and the mobilisation of calcium and phosphorus from the bones
Vitamin D contributes to the normal functioning of the immune system
Vitamin D is important for normal muscle function
Vitamin D contributes to the production of cells and tissues
Quicksilver Scientific liposomal packaging
Vitamin D and K2 are both fat-soluble. For the best absorption, you usually have to take them with a (fatty) meal. But Quicksilver Scientific's liposomal packaging ensures maximum absorption that starts inside your mouth, without the need for digestion.
Quicksilver Scientific makes liposomal supplements, where the active ingredients are packaged in very small liposomes (50-100 nm). Liposomes are packages made of a thin layer of fat. Quicksilver Scientific's tiny liposomes are absorbed inside the mouth and bypass most digestive processes.
The Quicksilver Scientific liposomes are made with high-grade phospholipids. Phospholipids are fats that form an important part of the cell membrane. The liposomes can easily deliver their contents to cells by fusing with the cell membrane. The active ingredients remain intact this way, and are more easily absorbed and remain active longer.
Quicksilver Scientific supplements are vegan, free of allergens, gluten and GMOs and made according to current Good Manufacturing Practices (cGMP).
All the benefits of Quicksilver Scientific Nanoemulsified D3K2
Active forms of vitamin D and K2: cholecalciferol (D3) and menaquinone-7 (K2)
Immediate absorption and high bioavailability via liposomal packaging
For a good calcium balance
For bones and teeth
For resilience
For muscles
Suitable for vegetarians and vegans
Tested and free from allergens, gluten and GMOs
Ingredients & Usage
Take 1 pump by mouth daily. Hold in mouth 30 seconds before swallowing. Repeat to desired dosage or as directed by a healthcare professional. Take on an empty stomach, at least 10 minutes before meals.
Use within 60 days after opening.
One package of Quicksilver Scientific Nanoemulsified D3K2 contains 50 mL, sufficient for 100 portions.
Ingredients
per serving
0,5 mL
(1 pump)
% RI
Vitamin D3
(as cholecalciferol)
63 µg
(2.500 IU)
1250%
Vitamin K2
(as menaquinone-7)
90 µg
120%
Phosphatidylcholine
(from purified sunflower
seed lecithin)
27 mg
*
RI = Reference Intake.
* RI unknown
Ingredients:
Water, Glycerin, Ethanol, Vitamins, Phosphatidylcholine, Vitamin E (as Tocofersolan and Natural Mixed Tocopherols), Natural Citrus Oils
Allergy information
Tested allergen-free
Store dry, cool, away from light and outside of reach of young children.
Dietary supplement. Category: Vitamins.
A varied and balanced diet and a healthy lifestyle are important. Food supplements are no substitute for a varied diet.
Warnings:
This food supplement is not suitable for children of 10 years or younger.
Do not exceed recommended dose.
Do not use if outer seal is broken or damaged.
If you are undergoing treatment for a medical condition or if you are pregnant or lactating, please consult your medical practitioner first.
Made in the United States.
Manufacturer
Quicksilver Scientific
1376 Miners Dr #101
Lafayette, CO 80026
United States
Supplier
Life Extension Europe
Frankfurtstraat 38
1175 LH Lijnden
The Netherlands