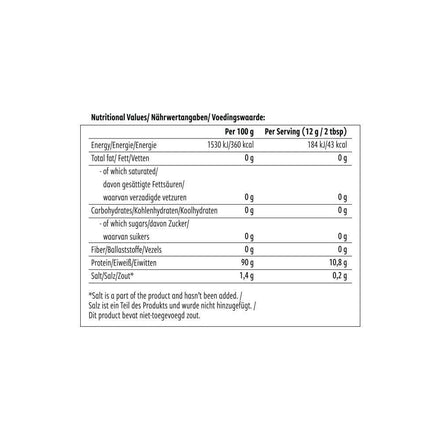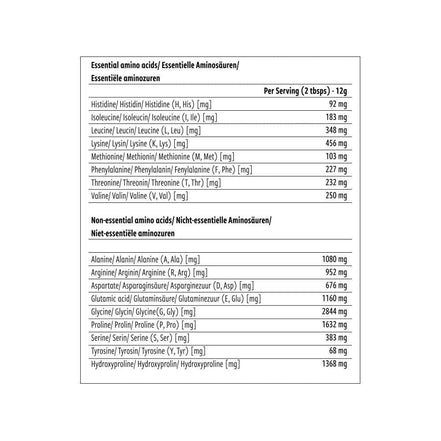 Shipping across Europe
We ship to 32 countries in Europe
Grass-Fed Pure Collagen
NoordCode Pure Collagen is high-quality collagen hydrolysate from French, grass-fed cows. Enzymatic hydrolysis for optimal digestibility and solubility. For beautiful-looking skin. Free of additives. 450 grams for 38 servings.
Larger pack size: 100 g more!
Regular price
Sale price
€34,95
Unit price
per
---
Fast delivery throughout the EU
We ship to 32 countries
NoordCode Pure Collagen
Collagen hydrolysate from enzymatic processing
From French, grass-fed cows
Neutral flavour and easy to use
For young-looking skin
Maintains the skin's normal structure and elasticity
Laboratory-tested for purity
No added flavourings, sweeteners or preservatives
New processing method!

Finer texture, more neutral taste
Better absorption and user experience

Larger pack size: 100 g more!
High-quality, grass-fed collagen hydrolysate
NoordCode Pure Collagen offers a high-quality, highly digestible collagen hydrolysate from grass-fed cattle. Recent research indicates that collagen contributes to the youthful appearance of your skin and supports the maintenance of normal hydration and elasticity. NoordCode Pure Collagen is neutral in flavour and very easy to add to drinks and dishes. Easily increase your collagen intake with collagen hydrolysate of the highest quality.
Collagen as a connective tissue protein
Collagen is the most abundant structural protein in the body. It is an important part of connective tissue and occurs as dozens of types, depending on the tissue and the function it performs. You can find collagen in skin, blood vessels, joints, bones and tendons, among others. These are precisely parts of animals we eat less and less of.
Addition of glycine, proline and hydroxyproline
The amino acid composition of collagen and proteins from muscle tissue differ considerably. Collagen mainly contains the non-essential amino acids glycine, proline and hydroxyproline. These amino acids are much less abundant in other protein sources. It may therefore be useful to eat more collagen-rich products or take a collagen supplement if you want to take more of these amino acids.
Collagen is great for increasing your intake of glycine, proline and hydroxyproline, but it does not contain all the essential amino acids. Therefore, you should combine it with protein sources that contain all essential amino acids.
Collagen for beautiful skin
Recent scientific studies point to the following benefits of collagen on the appearance of your skin:
Maintains normal appearance of the skin.
Reduces visible signs of ageing.
Maintaining normal hydration of the skin.
Maintain normal elasticity of the skin.
Collagen hydrolysate for good digestibility
Collagen in the body is a large and complex protein. Without further processing, it can take a long time to digest this protein and absorb all available amino acids.
Collagen hydrolysate is produced by enzymatically cutting the large collagen protein into smaller pieces. This 'pre-digestion' allows your body to absorb the amino acids faster. Another advantage is that collagen hydrolysate dissolves well in liquid, making it very user-friendly.
Pure Collagen also has an average molecular weight of 3000 Dalton, which further optimises digestibility.
Enzymatic hydrolysation
Enzymatically hydrolysed collagen, as provided by NoordCode, has a number of advantages. Unlike other hydrolysis methods, enzymatic hydrolysis uses little heating. As a result, the protein fragments remain intact and the amino acids are not damaged.
New processing method
NoordCode uses a new processing method to further improve the quality of collagen hydrolysate. The new method produces a finer collagen powder with an even more neutral taste. This makes the collagen powder more pleasant to consume and more absorbable in the body.
Collagen from grass-fed cattle
The quality of animal products depends on how healthy and natural the animal lives. For cattle, there is nothing more natural than being able to graze freely. NoordCode therefore uses collagen hydrolysate derived from French, grass-fed cattle that have not been treated with hormones and antibiotics. This way, the cattle have a healthy and natural life and you a top-quality product you can enjoy.
Lab-tested and additive-free
NoordCode Pure Collagen has been tested in an independent laboratory for purity and composition. Pure Collagen contains nothing but collagen hydrolysate. No additives, flavours or preservatives. As a result, Pure Collagen has a neutral taste that you often don't even notice in a drink or dish.
NoordCode food products: high-quality and functional
NoordCode is the product line of Eduard de Wilde, founder and CEO of LiveHelfi. NoordCode provides high-quality, functional nutrition and supplements.
NoordCode's nutritional products are chosen for their high quality, outstanding nutritional value and functional properties. They are excellent in taste and from the best possible sources. This can be organic farming or grass-fed cattle, just as applicable. Every product is lab-tested for purity and absence of undesirable substances, such as mycotoxins and heavy metals.
Recommended use
Mix 1 scoop daily with coffee, smoothies, (vegetable) milk, breakfast bowls, soups, or other hot and cold liquids.

To avoid clumps when mixing with a drink, it is recommended to add the powder first and mix with a small amount of liquid and stir until the powder is hydrated. Then add the remaining liquid while stirring continuously.
One package of NoordCode Pure Collagen contains 450 g, sufficient for 38 portions.
Product Facts
| Nutritional value per portion | 100 g (% RI) | 12 g (% RI) |
| --- | --- | --- |
| Energy | 390 kcal / 1631 kJ (20%) | 47 kcal / 196 kJ (2%) |
| Fats, of which | < 2 g (3%) | < 0.2 g (0%) |
| o Saturated fatty acids | 0 g (0%) | 0 g (0%) |
| Carbohydrates, of which | 0 g (0%) | 0 g (0%) |
| o Sugar | 0 g (0%) | 0 g (0%) |
| Protein | 90 g (180%) | 10.8 g (22%) |
| Fibre | 0 g (*) | 0 g (*) |
| Salt | < 0.1 g (*) | 0.0 g (*) |
RI = Reference intake of an average adult (8400 kJ / 2000 kcal).
* RI unknown
| Amino acids per portion | 100 g | 12 g |
| --- | --- | --- |
| Essential amino acids | | |
| Histidine | 800 mg | 96 mg |
| Isoleucine | 1600 mg | 192 mg |
| Leucine | 3200 mg | 384 mg |
| Lysine | 3900 mg | 468 mg |
| Methionine | 900 mg | 108 mg |
| Phenylalanine | 2200 mg | 264 mg |
| Threonine | 2000 mg | 240 mg |
| Tryptophan | 30 mg | 4 mg |
| Valine | 2500 mg | 300 mg |
| Non-essential amino acids | | |
| Alanine | 9500 mg | 1140 mg |
| Arginine | 8500 mg | 1020 mg |
| Aspartic acid | 6000 mg | 720 mg |
| Cystine + Cysteine | 100 mg | 12 mg |
| Glutamic acid | 10400 mg | 1248 mg |
| Glycine | 25200 mg | 3024 mg |
| Proline | 13900 mg | 1668 mg |
| Serine | 3600 mg | 432 mg |
| Tyrosine | 1000 mg | 120 mg |
| Hydroxyproline | 12100 mg | 1452 mg |
Ingredients:
hydrolysed bovine collagen peptide.
Allergy information:
processed in a factory that handles nuts
Food supplement. Category: Protein.
A varied and balanced diet and a healthy lifestyle are important. Food supplements are no substitute for a varied diet.
Store dry, cool, away from light and outside of reach of young children.
Warning:
Do not exceed recommended daily dose.
Do not use if outer seal is broken or damaged.
Made in: Europe
Business operator
NoordCode
Loopkantstraat 25
5405 AC Uden
The Netherlands