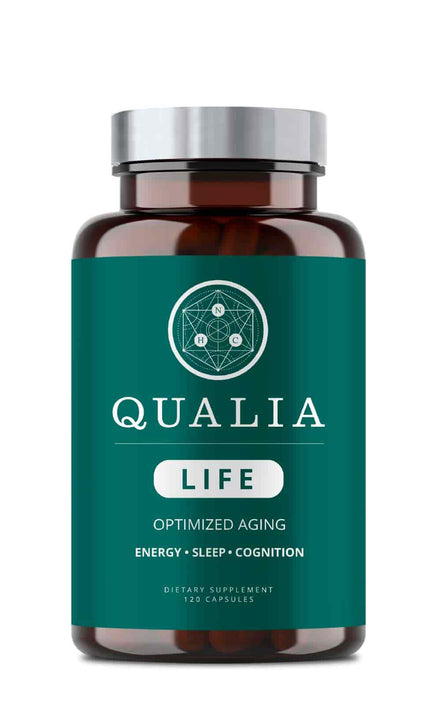 Shipping across Europe
We ship to 32 countries in Europe
Qualia Life EU
Neurohacker Collective Qualia Life EU is a complete formula for daily support, improved for the European market. With 37 high-quality ingredients for energy1, mental performance2 and the immune system4, among others. 120 capsules for 3 weeks.
Regular price
Sale price
€120,00
Unit price
per
---
Fast delivery throughout the EU
We ship to 32 countries
Neurohacker Collective Qualia Life EU
Complete formula for daily support
37 high-quality ingredients
Improved European formula with Extramel® sugar melon juice concentrate
Broad support for body and mind

For energy1
For mental performance2
For resistance against stress3
For the immune system4
With antioxidants5
1 Vitamins B1, B2, B3, B5, B6, B8, and B12, and ashwagandha†
2 Vitamins B1, B3, B5, B6, B8, B11, and B12, ashwagandha†, and gynostemma†
3 Vitamins B5, B11, and ashwagandha†
4 Vitamins B6, B11, and B12
5 Vitamin B2, rosemary†, and gynostemma†
The process of ageing
Ageing is the accumulation of damage and wear and tear. This damage causes the body as a whole to work less and less well. Prolonged stress and inflammation accelerate the accumulation of damage. Qualia Life contains ingredients that help manage stress and provide support to the immune system.
In addition, Qualia Life helps generate energy, which is necessary for the normal function of cells.
Usually, the more energy a cell has, the better it functions and can keep itself in good shape.
Improved European formula
Qualia Life's original formula contains PQQ from a manufacturer that is not allowed to supply the European market. Neurohacker Collective has created a modified formula for Europe.
Extramel®: better than PQQ
Qualia Life EU now contains Extramel® melon juice concentrate, which provides superoxide dismutase (SOD). This ingredient is exclusive to Qualia Life EU and otherwise appears only in Qualia Resilience. Neurohacker Collective expects Extramel to deliver more benefits than PQQ and considers it an improvement to the formula.
Furthermore, Qualia Life EU contains Aquamin® magnesium hydroxide and a slightly lower dosage of rosemary extract than the original formulation.
The benefits of Qualia Life EU
The ingredients in Qualia Life EU offer the following benefits:
Energy
Contributes to normal energy-producing metabolism.
Vitamins B1, B2, B3, B5, B6, B8, and B12, and ashwagandha†.
May help reduce lack of energy.
Vitamins B2, B3, B5, B6, B11, and B12, and ashwagandha†
Mental performance
Contributes to normal mental performance and mental resilience.
Vitamins B1, B3, B5, B6, B8, B11, and B12, ashwagandha†, and gynostemma†
Contributes to normal resistance to stress.
Vitamins B5, B11, ashwagandha†
Supports normal function of the nervous system.
Vitamins B1, B2, B3, B8, B6, and B12
Immune system and recovery
Contributes to the protection of cells against oxidative damage.
Vitamin B2, rosemary†, and gynostemma†
Contributes to the normal functioning of the immune system.
Vitamins B6, B11, and B12
† Health claim subject to approval by the European Commission.
Qualia Life EU is free from GMOs and gluten and suitable for vegetarians and vegans.
Neurohacker Collective Qualia Supplements
Qualia is the supplement line of the Neurohacker Collective, an organisation dedicated to promoting mental performance. Their products also target organs and processes outside the brain. Every part of the body involved in mental performance falls within their area of interest.
Qualia supplements are carefully formulated based on scientific research into each ingredient.
Ingredients & Use
As a dietary supplement, take 8 capsules with at least 250 mL (8 oz) of water in the morning with food.
You can start with a dose of 1-2 capsules and increase it by 1-2 capsules every few days until you reach the recommended dose. This approach is especially recommended for people who already take many supplements or are more sensitive to supplements.
Qualia Life is designed to be taken 5 days on and 2 days off each week. It does not matter if the "off-cycle" days are consecutive or apart, so long as they happen each week.
One package of Neurohacker Collective Qualia Life EU contains 120 capsules, sufficient for 15 days or 3 weeks.
Composition per portion
8
capsules
% RI
Vitamins & Minerals
Vitamin B1 (as Thiamine HCl)
25 mg
2273%
Vitamin B2 (Riboflavin)
2 mg
143%
Vitamin B3 (Niacin)
125 mg
781%
o Niacinamide
100 mg
o Nicotinic acid
25 mg
Vitamin B5
(Pantothenic acid,
as calcium pantothenate)
5 mg
83%
Vitamin B6
(as pyridoxal 5'-phosphate)
1.3 mg
93%
Vitamin B8 (Biotin)
30 μg
60%
Vitamin B9/B11 (Folate)
303 μg
152%
o Calcium L-5'-
methyltetrahydrofolate
100 μg
o Calcium folinate
100 μg
Vitamin B12 (Cobalamin)
200 μg
8000%
o Methylcobalamin
100 μg
o Adenosylcobalamin
200 μg
Vitamin K2
(as menaquione-7)
50 μg
67%
Magnesium
(from magnesium hydroxide
from seawater
[Aquamin® Mg])
25 mg
7%
Herbs, Amino acids
& Isolates
Tri-creatine Malate
1,000 mg
*
Calcium ß-Hydroxy-
ß-Methylbutyrate
monohydrate
500 mg
*
Glycine (as 400 mg
magnesium glycinate)
344 mg
*
Cocoa Seed Extract
300 mg
*
Cinnamomum burmannii
Bark Extract
[Cinnulin PF®]
250 mg
*
L-Carnitine HCl
250 mg
*
Rosemary Leaf Extract
(Rosmarinus officinalis)
(50% ursolic acid)
250 mg
*
French Red Grapes
Extract (5% resveratrol)
[BioVin®]
200 mg
*
Myo-Inositol
200 mg
*
Ancient Peat and Apple
fruit Extract [elevATP®]
150 mg
*
Betaine HCl
125 mg
*
Ashwagandha Root and
Leaf Extract (Withania
somnifera) (10% withanolide
glycoside conjugates)
[Sensoril®]
125 mg
*
Gynostemma pentaphyllum
Whole Herb Extract
(50% gypenosides)
100 mg
*
Kaempferia parviflora
Root Extract (15%
polymethoxy flavonoids)
[Sirtmax®]
100 mg
*
R-Lipoic Acid sodium salt
100 mg
*
L-Cystine
100 mg
*
L-Tryptophan
100 mg
*
Coenzyme Q10
(ubiquinone)
65 mg
*
Sophorae japonica L.
Flower Extract (95% rutin)
50 mg
*
Orange Fruit Extract
(Citrus sinensis L.)
(40% nobiletin)
50 mg
*
Pomegranate Fruit Extract
(Punica granatum)
40 mg
*
Pomelo Fruit Extract
(Citrus grandis)
(98% apigenin)
20 mg
*
Melon Juice Concentrate
(Cucumis melo L.)
(providing 140 IU of
superoxide dismutase
(SOD)) [Extramel®]
10 mg
*
Carob Pod Extract
(Ceratonia siliqua)
(98% D-chiro-inositol)
5 mg
*
RI = Reference Intake.
* RI unknown
Ingredients:
vitamins, herbal extracts, amino acids, hypromellose, rice extract, rice hulls, gum arabic, sunflower oil, silicon dioxide, calcium carbonate, magnesium hydroxide, R-lipoic acid sodium salt, Coenzyme Q10 (ubiquinone).
Sirtmax® is a registered trademark of Tokiwa Phytochemical Co., Ltd.
elevATP® is a registered trademark of VDF FutureCeuticals, Inc. elevATP® products are protected by US patent no. 9,327,005, used under license.
SENSORIL® ashwagandha extract is protected under U.S. Patent No. 7,318,938 and is a registered trademark of Natreon, Inc.
Cinnulin PF is a trademark of IN Ingredients Inc.
BioVin® Advanced is a registered trademark of Cyvex Nutrition, Inc. dba Bioriginal.
Extramel® is a registered trademark of Bionov.
Aquamin® is a registered trademark of Marigot Ltd. of Cork Ireland.

Allergy information:
No allergens listed.
Food supplement. Category: Multiformula.
A varied and balanced diet and a healthy lifestyle are important. Food supplements are no substitute for a varied diet.
Warning:
Do not exceed recommended dose.
Do not use if outer seal is broken or damaged.
If you are undergoing treatment for a medical condition or if you are pregnant or lactating, please consult your medical practitioner first.
If you are taking coumarin derivatives (anticoagulants such as warfarin, acenocoumarol and fenprocoumon), consult an expert before taking a vitamin K2 supplement.
Before use, consult your doctor or pharmacist in case of concomitant use with antidepressants.
Before use, consult your doctor or pharmacist in case of thyroid disorder and/or use of thyroid hormones.
Made in: United States
Manufacturer
Neurohacker Collective, LLC
179 Calle Magdalena Suite 100
CA 92024 Encinitas
United States
Imported by
LiveHelfi
Loopkantstraat 25
5405 AC Uden
The Netherlands