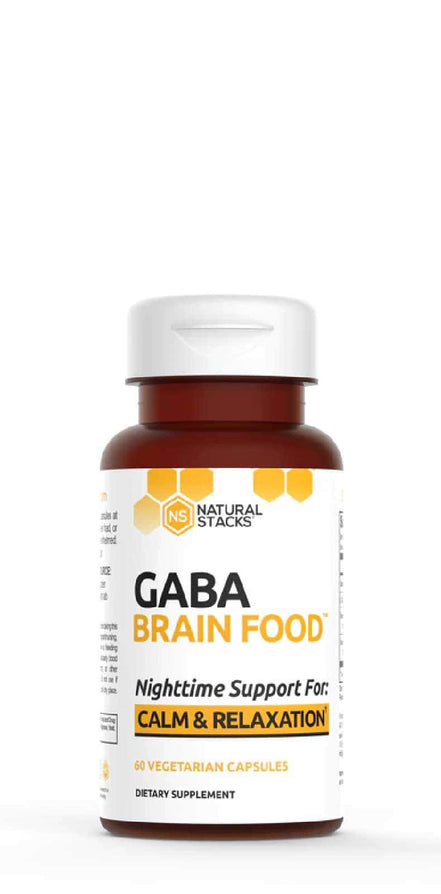 Shipping across Europe
We ship to 32 countries in Europe
Gaba Brain Food
Natural Stacks GABA Brain Food combines GABA and rosemary extract with L-citrulline and grape seed extract to support GABA absorption. For daytime or evening use. 60 capsules for 20 servings.
Regular price
Sale price
€43,50
Unit price
per
---
Fast delivery throughout the EU
We ship to 32 countries
Natural Stacks GABA Brain Food
Neurotransmitter GABA supported by grape seed extract and L-citrulline
Combined with rosemary extract
For daytime or evening use
Absorption-supported GABA
Gamma-aminobutyric acid (GABA) is a brain signalling compound (neurotransmitter). You can take GABA as a supplement, but it has trouble getting through the blood-brain barrier into the brain without help.
Natural Stacks therefore combines GABA with L-citrulline and grape seed extract. L-citrulline is converted to L-arginine, which helps the absorption of GABA in the brain. Grape seed extract supports GABA uptake in a similar way.
Rosemary supplements GABA
Rosemary is a well-known culinary herb that also contains useful substances such as rosmarinic acid (rosmarinic acid). GABA and rosemary complement each other nicely in terms of action.
Suitable for day or evening
You can use GABA Brain Food any time of day. It complements sleep nicely and can be used well in the evening.
About Natural Stacks
Natural Stacks provides nutritional supplements intended to support the brain. Whether you are 25 or 65, a healthy and functioning brain helps you experience life to the fullest and enjoy it. The right nutrition helps you concentrate well and think clearly. Your mood also benefits from healthy food. To complement your diet, a supplement can give you some extra support.
The company works with leading ingredient suppliers and manufacturers to provide excellent quality brain supplements. Each batch of dietary supplements from Natural Stacks is checked in an independent laboratory. And the ingredients used are all traceable.
Recommended use
Take 1-3 capsules as needed, or as directed by your healthcare provider.
For use with sleep, take 3 capsules about 1 hour before bedtime.
One package of Natural Stacks GABA Brain Food contains 60 capsules, sufficient for 20 portions.
Supplement Facts
Composition per portion
3 capsules
% RI
Gamma-aminobutyric acid (GABA)
633 mg
*
L-Citrulline
500 mg
*
Rosemary leaf extract
(Rosmarinus officinalis)
(standardized to 6% rosmarinic acid)
333 mg
*
Grape seed extract
(Vitis vinifera)
(min. 95% total polyphenols)
33 mg
*
RI = Reference Intake.
* RI unknown
Ingredients:
gamma-aminobutyric acid, L-citrulline, rosemary leaf extract, grape seed extract, capsule (hypromellose), ascorbyl palmitate, silica.
Allergy information:
No allergens listed.
Food supplement. Category: Amino acids, Herbs.
A varied and balanced diet and a healthy lifestyle are important. Food supplements are no substitute for a varied diet.
Store dry, cool, away from light and outside of reach of young children.
Warning:
Do not exceed recommended dose.
Do not use if outer seal is broken or damaged.
If you are undergoing treatment for a medical condition or if you are pregnant or lactating, please consult your medical practitioner first.
Made in: United States
Manufacturer
NS 360 Inc.
4241 24th Ave W.
Seattle, WA 98199
United States
Imported by
LiveHelfi
Loopkantstraat 25
5405 AC Uden
The Netherlands