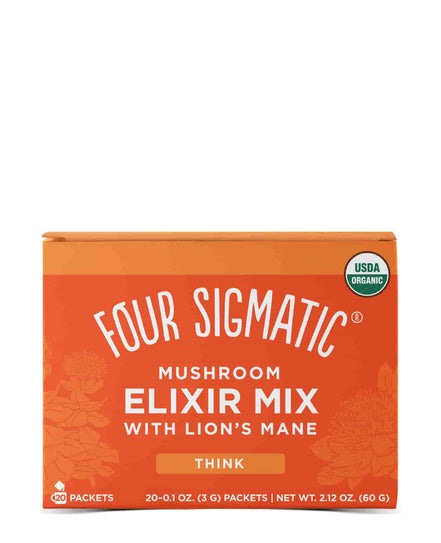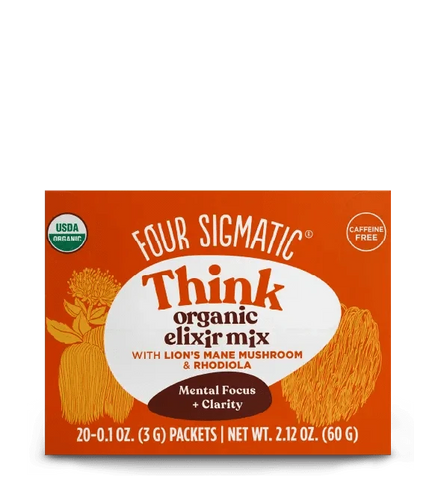 Shipping across Europe
We ship to 32 countries in Europe
Lion's Mane Mushroom Elixir Mix
20 powder packets per box. 1500mg of dual extracted, Lion's Mane fruiting bodies per packet. At least 30% polysaccharide (15%+ beta-glucan) content. Vegan - Paleo - Sugar-free - Gluten-free - Non-GMO.
Packaging may vary.
Regular price
Sale price
€35,90
Unit price
per
---
Fast delivery throughout the EU
We ship to 32 countries
Four Sigmatic Lion's Mane Mushroom Elixir Mix
Lion's Mane
This Lion's Mane mushroom has been sourced by dual extracting the wood-grown fruiting bodies then spray-dried without any fillers or carriers. The final extract powder is standardised to 30% polysaccharide (15%+ beta-glucan) content. It contains no starch, sugars or fillers of any kind.
To ensure that you can get the most out of this mushroom, a process of dual-extraction has been performed making this normally hard to digest product more bioavailable. To do this all of the active and fat-soluble components have been made bioavailable with the use of boiling water and alcohol respectively. After removing the alcohol and concentrating the extract, it is sprayed dry into a powder form.
Only the fruiting bodies of the lion's mane have been used, and it has been grown in real wood, just like in the wild. This ensures that the mushrooms are as effective as they can be. The mycelium (the root of the mushroom) has not been used in this product.
All of the power has been allowed to concentrate into the actual mushroom before being processed with the state-of-the-art dual-extraction method.
Lion's Mane mushroom can have many beneficial effects on your body. On the internet and in scientific research you can find a lot of information about the health benefits of Lion's Mane.
Stevia
A small amount of stevia leaf extract has been added to provide a little calorie-free sweetness that works to round out the flavour without overpowering the senses.
Less than 0.2% has been added, as the stevia used is a high quality concentrated extract that is free of any metallic aftertaste.
Field Mint
The delicious mint leaf is added as the final touch for its refreshing flavour.
Each box of Lion's Mane Mushroom Elixir contains
20 packets of 1500 mg dual-extracted Lion's Mane fruiting bodies
Vegan and Paleo-friendly ingredients
Sugar-free ingredients
Gluten free
No fillers
Non-GMO ingredients
Only 5 calories per serving
Ingredients & Usage
Add one packet to 8 fluid oz. of hot water, or blend into your favourite smoothie.
For best results, drink this beverage:
Whenever "brain fog" strikes
When studying, reading or writing
Limit to one packet per day
One package Four Sigmatic Lion's Mane Mushroom Elixir Mix contains 20 packets.
| Ingredients per portion | 3 g (1 sachet) | % RDA |
| --- | --- | --- |
| Lion's Mane (Hericium erinaceus) extract | 1500 mg | * |
RDA = standard recommended daily intake based on a daily intake of 2000 kcal.
* RDA unknown
Additional ingredients:
Rhodiola extract, field mint, rose hip extract, stevia
Allergy information
No allergens listed
Store in a cool and dry place, away from light.
Four Sigmatic Lion's Mane Mushroom Elixir Mix is a dietary supplement in the herbal preparation category and is no replacement for a healthy and balanced diet and/or lifestyle.
Warnings:
Keep out of reach of children.
Do not exceed recommended dose.
Do not use if outer seal is broken or damaged.
If you are undergoing treatment for a medical condition or if you are pregnant or lactating, please consult your medical practitioner first.
Made in the United States.
Manufacturer
Four Sigmatic Foods Inc.,
1450 2nd St,
Santa Monica, CA 90401
United States
Imported by
LiveHelfi
d'n Office
Loopkantstraat 25
5405 AC Uden
The Netherlands