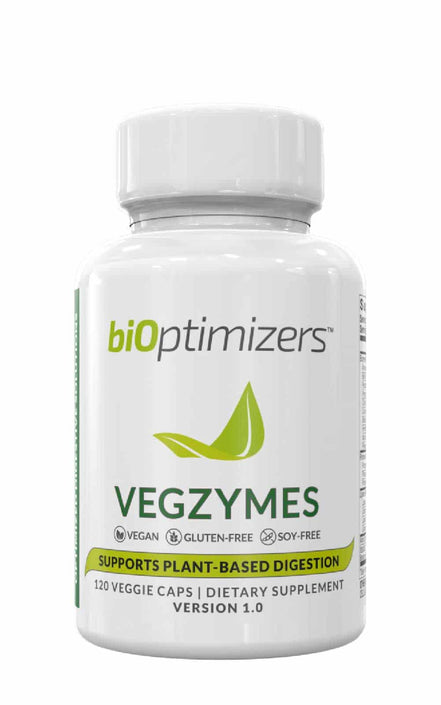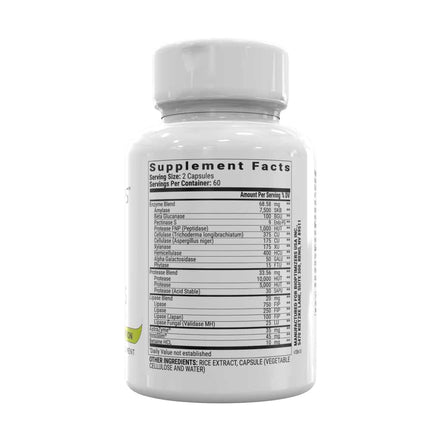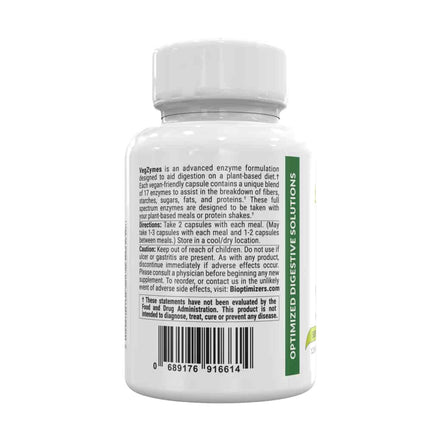 Shipping across Europe
We ship to 32 countries in Europe
VegZymes
BiOptimizers VegZymes contains 17 digestive enzymes for plant-based foods. For vegetarians, vegans and people who want to eat more (uncooked) plants. 120 capsules for 60 servings.
Regular price
Sale price
€59,95
Unit price
per
---
Fast delivery throughout the EU
We ship to 32 countries
BiOptimizers VegZymes
When eating (uncooked) plant-based food
With a vegetarian or vegan diet
When you want to eat more (uncooked) plants
Digestion of plant-based foods
Plants contain unique carbohydrates and proteins that animals do not make. The body uses special digestive enzymes for this. Cooking plants makes them easier to digest, but they will also lose nutrients. When you eat plants raw, you get more nutrients, if you can digest them properly.
17 digestive enzymes for plant-based foods
BiOptimizers VegZymes contains a blend of 17 digestive enzymes specifically chosen for plant-based foods. These enzymes digest vegetable carbohydrates and proteins.
VegZymes is suitable for vegetarians and vegans.
For when you eat mainly plants
When you eat mainly or only plants, your body learns which enzymes digest best. Extra enzymes can support the complete digestion of plants. So you get more nutrients from the plants you eat.
When you want to eat more plants
The body adapts to any change in your diet. You will make more enzymes to help digest plants when you eat more plants. Until your body has adjusted, you can take extra enzymes to support the transition.
With AstraZyme, InnoSlim and betaine HCl
AstraZyme and InnoSlim are patented, proprietary blends of Astragalus membraneceus and Panax notoginseng root extracts.
Betaine HCl is an amino acid compound of betaine with hydrogen chloride, which is also found in stomach acid.
Ingredients & Usage
Take 2 capsules with each meal with vegetable food. You can take 1-3 capsules with each meal and 1-2 capsules between meals.
One package of BiOptimizers VegZymes contains 120 capsules, sufficient for 60 portions.
Ingredients per serving
2 capsules
% RI
Enzyme blend
68,58 mg
*
o Amylase
7.500 SKB
*
o Beta glucanase
100 BGU
*
o Pectinase S
9 Endo-PG
*
o Protease FNP (peptidase)
1.000 HUT
*
o Cellulase (Trichoderma longibrachiatum)
375 CU
*
o Cellulase (Aspergillus niger)
175 CU
*
o Xylanase
175 XU
*
o Hemicellulase
400 HCU
*
o Alpha galactosidase
50 GALU
*
o Phytase
15 FTU
*
Protease blend
33,56 mg
*
o Protease
10.000 HUT
*
o Protease
5.000 HUT
*
o Protease (acid stable)
30 SAPU
*
Lipase blend
20 mg
*
o Lipase
750 FIP
*
o Lipase
250 FIP
*
o Lipase (Japan)
100 FIP
*
o Lipase (fungal) (Validase MH)
25 LU
*
Proprietary blend of proteolytic enzymes,
Astragalus membraneceus extract, Panax notoginseng
extract, and trace minerals [AstraZyme®]
35 mg
*
Proprietary blend of Panax notoginseng
root extract and Astragalus membranaceus
root extract [InnoSlim®]
45 mg
*
Betaine HCl
10 mg
*
RI = Reference Intake.
* RI unknown
Ingredients:
Enzymes, rice extract, capsule (vegetable cellulose, water), AstraZyme®, InnoSlim®, Betaine HCl
Allergy information
No allergens listed
Store dry, cool, away from light and outside of reach of young children.
Dietary supplement. Category: Enzymes, Herbs, Amino acids.
A varied and balanced diet and a healthy lifestyle are important. Food supplements are no substitute for a varied diet.
Warnings:
Do not exceed recommended dose.
Do not use if ulcer or gastritis are present.
Do not use if outer seal is broken or damaged.
If you are undergoing treatment for a medical condition or if you are pregnant or lactating, please consult your medical practitioner first.
Made in the United States.
Manufacturer
BiOptimizers USA, Inc.
5470 Kietzke Lane, Suite 300
Reno, NV 89511
United States
Imported by
LiveHelfi
d'n Office
Loopkantstraat 25
5405 AC Uden
The Netherlands