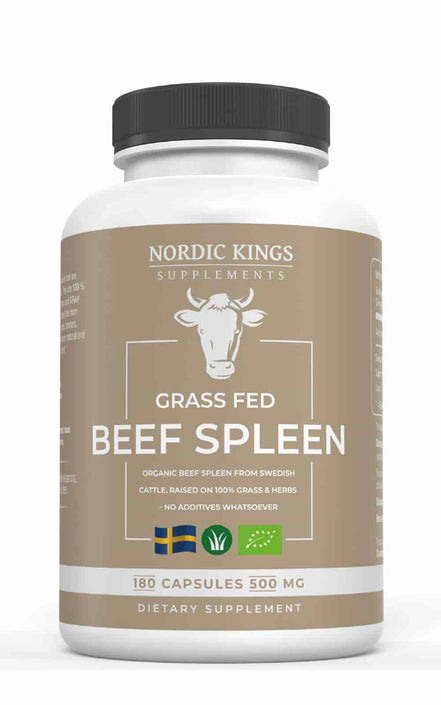 Shipping across Europe
We ship to 32 countries in Europe
Organic Grass Fed Beef Spleen
Nordic Kings Beef Spleen contains a combination of freeze-dried beef spleen and liver. The spleen provides bioavailable heme iron and the liver contains copper, which supports iron absorption. From grass-fed, organic and KRAV certified cattle. 180 capsules, 30 servings. Unavailable from the supplier until further notice.
Regular price
Sale price
€39,95
Unit price
per
---
Fast delivery throughout the EU
We ship to 32 countries
Nordic Kings Beef Spleen
Combination of beef skin and liver
Freeze-dried organ powder with no additives
Source of vitamin D, vitamin B12, copper and iron

For energy
For iron absorption
For red blood cells
For the immune system
For bones and teeth

From grass-fed, free-grazing cattle from Sweden
Organic and KRAV certified
Spleen and liver for available iron
Nordic Kings Beef Spleen combines freeze-dried powders of beef spleen and liver. This combination focuses mainly on providing bioavailable iron. Spleen is rich in heme iron and liver contains copper, which aids iron absorption.
Functions of spleen and liver
The spleen purifies the blood and recycles red blood cells
Located next to the stomach, the spleen is an important organ for the lymphatic system/immune system. It removes old red blood cells and breaks down haemoglobin for recycling iron. The spleen is also a gathering place for white blood cells, like a lymph node.
The liver detoxifies waste products and regulates available fuel
The liver has several functions, including removing toxins from the body. It also regulates available fuel in the blood, such as blood sugar and fats.
Nutrients in liver and spleen
Organ meat is rich in nutrients that that organ needs to function properly. So eating organs provides exactly the nutrients your own organs use. Besides vitamins and minerals, organs also contain specific peptides and enzymes. Careful freeze-drying preserves heat-sensitive nutrients.
Benefits of Nordic Kings Beef Spleen
The combination of nutrients from beef spleen and liver in Nordic Kings Beef Spleen provides the following benefits:
Blood and iron
Vitamin B12 contributes to the formation of red blood cells.
Iron supports the normal formation of red blood cells and haemoglobin.
Iron contributes to normal oxygen transport in the body.
Support the immune system.
Vitamins B12, D, copper, iron
Copper supports iron transport in the body.
Contribute to cell and tissue production.
Vitamins B12, D, iron.
Energy and other benefits
Help release energy from food.
Vitamin B12, copper, iron
Contribute to extra energy in fatigue/fatigue.
Vitamin B12, iron
Help ensure proper functioning of the nervous system.
Vitamin B12, copper
Contribute to normal mental performance.
Vitamin B12, iron
Vitamin D supports normal muscle function.
Vitamin D contributes to the maintenance of strong bones and teeth.
The highest quality and animal welfare
Nordic Kings selects the most animal-friendly and therefore the best quality cattle. With animal products, more animal welfare also means better quality. The better the animal lives, the higher the quality and nutritional value of the products.
From Swedish cattle that were able to graze freely
Grass is the most natural and healthy food for cattle. Nordic Kings uses cattle that eat grass all year round. The cattle can graze freely in the summer and are given silage in the winter. Silage is made by fermenting cut grass. This process takes place naturally by making grass mounds or bales.
Organic and KRAV-certified cattle
The cattle of Nordic Kings are raised according to organic and KRAV guidelines. KRAV is a Swedish quality mark that, in addition to the organic origin, also has guidelines for animal welfare, sustainability and attention to the surroundings and the environment.
Recommended use
Take 6 capsules daily. Spread the dose over multiple portions and take with with a high-fat meals for best nutrient uptake.

Start with 1-2 capsules daily and progressively increase the dose over 2-3 weeks to 6 capsules.

The capsules may be emptied and added to meals if shallowing capsules is difficult.
One package of Nordic Kings Beef Spleen contains 180 capsules, sufficient for 30 days.
Product Facts
| Composition per portion | 6 capsules | % RI |
| --- | --- | --- |
| Beef Spleen (organic) | 1,800 mg | * |
| Beef Liver (organic) | 1,200 mg | * |
RI = Reference Intake.
* RI unknown
Ingredients:
Freeze-dried beef spleen, freeze-dried beef liver, vegetable capsule.
Allergy information:
No allergens listed.
Food supplement. Category: Organ Meats.
A varied and balanced diet and a healthy lifestyle are important. Food supplements are no substitute for a varied diet.
Store dry, cool, away from light and outside of reach of young children.
Warning:
Do not exceed recommended dose.
If you are undergoing treatment for a medical condition or if you are pregnant or lactating, please consult your medical practitioner first.
Do not use if outer seal is broken or damaged.
Made in: Sweden
Manufacturer
Nordic Kings Supplements AB
Missionsvägen 4
269 72 Förslöv
Sweden
Imported by
LiveHelfi
Loopkantstraat 25
5405 AC Uden
The Netherlands