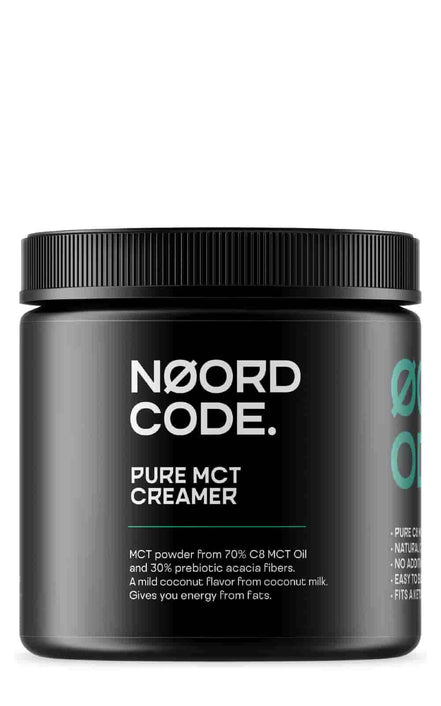 Shipping across Europe
We ship to 32 countries in Europe
Pure MCT Creamer
NoordCode Pure MCT Creamer consists of C8 MCT oil powder with coconut milk powder. Has a slightly sweet, creamy coconut taste. Dissolves well in drinks and suitable for baking. 250 g per jar.
Regular price
Sale price
€22,50
Unit price
per
---
Fast delivery throughout the EU
We ship to 32 countries
NoordCode Pure MCT Creamer
MCT oil in powder form
Convenient for drinks, smoothies and yoghurt
Quick energy from C8 MCT
Slightly sweet coconut flavour from coconut milk powder
Quick energy from C8 medium chain triglycerides (MCTs)
MCTs (Medium Chain Triglycerides) are fats with relatively short chains. As a result, the body's processing of MCTs differs from that of other fats. The C8 (octanoic acid or caprylic acid) and C10 (decanoic acid or capric acid) MCTs are rapidly digested and used for energy. C8 and C10 are the easiest to digest compared to other MCTs, such as C6 or C12.
C8 MCTs from sustainably grown coconut with acacia fibers
NoordCode Pure MCT Creamer contains only C8 MCTs from sustainably grown coconuts. Acacia contains prebiotic fibre, which feeds the gut bacteria.
MCT powder dissolves well in drinks, making it perfect to add to cakes or drinks such as smoothies and coffee. A 15-gram portion contains 7,4 grams of MCTs.
Start with a moderate portion
Too large a portion of MCTs, especially if your body is not used to it, may cause intestinal discomfort. MCT Oil Powder is gentler on the gut than normal MCT oil. This makes MCT powder a good starter option. You will also be able to consume a larger dosage of MCTs with powder than with normal oil before experiencing intestinal discomfort.
Perfect addition to beverages and baked goods
MCT powder easily blends into drinks such as coffee. So you don't need a blender as, for example, with Bulletproof coffee with butter and liquid MCT Oil.
Coconut milk powder gives a mildly sweet coconut flavour. NoordCode Pure MCT Creamer is completely plant-based and suitable for vegetarians and vegans.
NoordCode products
NoordCode is the product line of Eduard de Wilde, founder and CEO of LiveHelfi. NoordCode makes high quality, functional foods and supplements, such as coffee, collagen, and MCT oil. These products are made in Europe and, due to lower transport costs, are cheaper than American alternatives, but are just as good in terms of quality.
NoordCode uses the best local ingredients and makes the products according to stricter EU guidelines. All products are independently tested for purity and composition.
Ingredients & Usage
Mix 15 g (1 scoop) with your breakfast bowl, coffee or smoothie. NoordCode MCT Creamer has a slightly sweet coconut taste and can be heated to 180 °C, so you can use it in cakes and (low-carb) baked products.
One package of NoordCode Pure MCT Creamer contains 250 g, sufficient for 20 portions.
Nutritional value per portion
15 g (%RI)
100 g (% RI)
Energy
102,8 kcal /
421,5 kJ (5%)
685,8 kcal /
2869,7 kJ (34%)
Fats
10,1 g (14%)
67,6 g (97%)
o Saturated
10 g (50%)
66,4 g (332%)
o Medium chain triglycerides
7,4 g (*)
49 g (*)
Carbohydrates
1,1 g (0%)
7,2 g (3%)
o Sugar
0,5 g (1%)
3,3 g (4%)
Fibre
2,6 g (*)
17,4 g (*)
Protein
0,4 g (1%)
2,1 g (4%)
Salt
0,04 g (1%)
0,3 g (5%)
RI = Reference Intake.
* RI unknown
Ingredients:
MCT oil powder made from 70% MCT oil (medium-chain triglycerides from coconut and 30% acacia fibers), coconut milk powder
Allergy information
Made in a facility that also processes dairy.
Store dry, cool, and away from light.
Dietary supplement. Category: Fats.
A varied and balanced diet and a healthy lifestyle are important. Food supplements are no substitute for a varied diet.
Warnings:
Do not use if outer seal is broken or damaged.
Made in Europe.
Manufacturer
NoordCode
Loopkantstraat 25
5405 AC Uden
The Netherlands