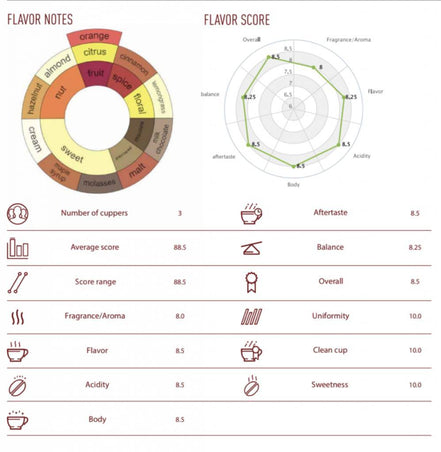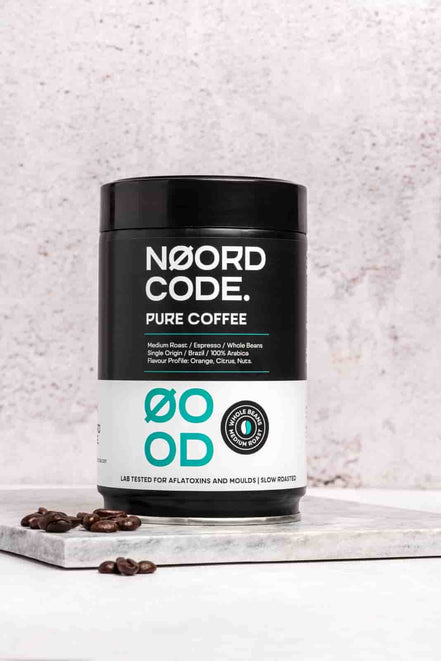 Shipping across Europe
We ship to 32 countries in Europe
Pure Coffee Medium Roast Whole Beans 250g
100% Arabica, single-estate coffee from Brazil. Flavour notes of orange, citrus, and nuts. Medium roast, ideal for espresso. Lab tested for aflatoxins and moulds. Contains 250 grams whole beans.
Regular price
Sale price
€12,50
Unit price
per
---
Fast delivery throughout the EU
We ship to 32 countries
Why NoordCode Pure Coffee?
NoordCode has high standards when it comes to choosing the coffee beans, the fermentation and the roasting process. They care about the taste as much as about the toxin-free farming.
NoordCode Pure Coffee is 100% Arabica and single-estate from Brazil, Norte Pioneiro. The farm "California" meets the high-standards for ecological and toxin-free production. To monitor the quality, the coffee beans get tested in an independent laboratory.
Ethiopian style fermentation and slow roasting guarantee that the taste is optimal, without any bitterness or burnt aftertaste. The roasting process is optimised according to the latest scientific research and European standards. For roasting many factors affecting the quality are taken into consideration, like weather, humidity and temperature of the beans. To maintain the same consistent flavour in each batch, the roasting process is a mix of traditional cupping (tasting) by master roasters and scientific sampling with a roast profile.
NoordCode Pure Coffee is a well-balanced coffee that has optimal acidity and body. Orange and citrus are the first nuances you'll sense, and the lingering aftertaste of nuts match perfectly with milk, butter, or cream.
NoordCode Pure Coffee has a cupping score of 88.5 on a 100 point scale. Cupping is a way to evaluate a coffee's quality within the coffee industry. A cupping score over 85 points is considered ""Specialty"" grade.
Benefits of NoordCode Pure Coffee Medium Roast Whole Beans
Choose NoordCode Pure Coffee Medium Roast Coffee if you want to brew stronger coffee drinks, like Espresso and Cappuccino. (Pick NoordCode Pure Coffee Light Roast Coffee for dripping style coffee makers.) You can also blend the coffee with NoordCode MCT oil and Ghee.
NoordCode doesn't do dark roasting, like most commercial coffees. By over-roasting, the coffee gets a strong flavour that hides the toxins and oxidation. NoordCode Pure Coffee is ideally roasted, and you'll notice the difference.
For 100% Arabica and single-estate
Medium roast, perfect for espresso style coffees
Whole beans so you can adjust grinding to your personal needs
Flavour notes of orange, citrus, and nuts
Cupping score of 88.5
Lab-tested for aflatoxins and moulds
Slow roast to maintain the beneficial nutrients
Fresh aroma thanks to immediate vacuum packaging
Comes in an airtight container for easy storage
NoordCode Pure Coffee Medium Roast is also available in ground coffee beans.
Use
Grind only the amount you need for immediate use. The coffee tastes more fresh and intense when you grind the beans just before brewing. Store at room temperature in an airtight container, away from heat, direct sunlight, and moisture.
Supplier
NoordCode
Loopkantstraat 25
5405 AC Uden
The Netherlands