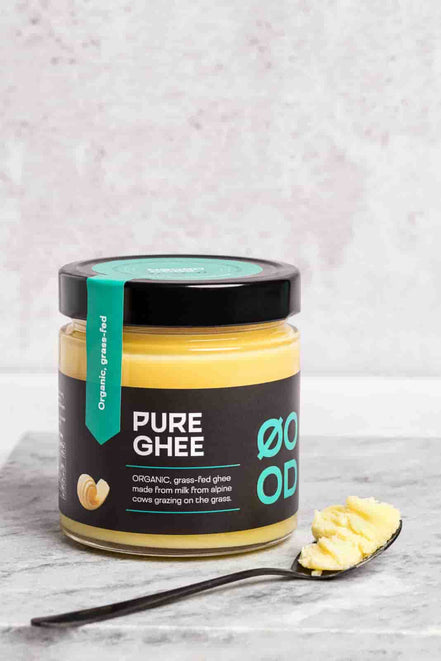 Shipping across Europe
We ship to 32 countries in Europe
Organic Pure Ghee
NoordCode Pure Ghee is 100% pure clarified butter from biodynamically raised Alpine cows. Organic and grass-fed. Excellent for baking or for Bulletproof coffee. 320 g per glass jar.
Regular price
Sale price
€19,95
Unit price
per
---
Fast delivery throughout the EU
We ship to 32 countries
NoordCode Pure Ghee
Organic clarified butter from grass-fed cows
100% pure ghee with no additives
Product of biodynamic agriculture
Free of casein and lactose
Perfect for baking or for in your Bulletproof coffee
Benefits of Ghee
Ghee contains a rich diversity of good fatty acids. It is rich in butyric acid, CLA (conjugated linoleic acid), and Omega 3. In addition, ghee contains many easily digestible essential fatty acids and vitamins A, D, E and K.
Good for baking
Ghee is great for cooking and sautéing. Its high saturated fat content makes it more heat-resistant than vegetable cooking oil. Plus, ghee enhances the flavour of spices and herbs to make your dishes even tastier.
Butter alternative in Bulletproof coffee
Bulletproof coffee is a coffee recipe with butter and MCT oil, mixed with a blender. Not everyone can or wants to use butter, for example due to lactose or milk proteins. Ghee is then a good alternative, as it contains only the milk fats.
Organic milk from grass-fed cows
NoordCode only uses pasture-raised, grass-fed cows' milk which comes from the green regions of the Alps. Noordcode pays fair compensation to the farmers because they are doing valuable work, preserving the rural nature of the cultural landscape. With ecological farming, the farmers preserve the vitality of their products and keep the soil healthy and fertile.
Product of biodynamic agriculture
Biodynamic agriculture has even more stringent requirements than organic production. The aim is to make the entire system of agriculture and animal husbandry sustainable. This is done on the basis of requirements such as:
the farm is set up as a closed ecological system
maintaining soil fertility naturally
free range all year round, including in winter and when it snows
social bonding between young and older cows
The healthiest animals produce the most palatable and nutritious products. So biodynamic farming is good for the animals, for the environment and for us.
Careful purification of ghee
The ghee is made in the traditional way, separating water, protein and carbohydrates from the fat. The butter oil that remains is carefully filtered and hardens as it cools. NoordCode packs the ghee in glass jars that are convenient in the kitchen. Ghee is a solid at room temperature and can be stored outside the fridge.
Tested free of lactose and casein
An independent laboratory verifies that Pure Ghee is free of casein and lactose. It also checks for purity and oxidative stability.
Ingredients & Usage
In cooking, ghee enhances the flavours of spices and herbs. Mixed with coffee, it gives a creamy, nutty taste to your latte.
Use a clean spoon each time, and keep the jar lightly sealed to protect it from moisture and air. When exposed to heat or cold, it is normal for ghee to change its texture. This does not affect the taste.
Store ghee at room temperature. The recommended shelf-life is up to 8 months.
One package of NoordCode Pure Ghee contains 320 g.
Nutritional value
per portion
13 g
(1 tablespoon)
% RI
Energy
115 kcal
/ 481 kJ
6%
Fats
13 g
19%
o Saturated
8,8 g
44%
Carbohydrates
0 g
0%
Protein
0 g
0%
Salt
0 g
0%
RI = Reference Intake.
* RI unknown
Ingredients:
Organic, clarified butter
Allergy information
No allergens listed
Store dry, cool, away from light and outside of reach of young children.
Warnings:
Do not use if outer seal is broken or damaged.
Made in Slovenia.
Manufacturer
NoordCode
Loopkantstraat 25
5405 AC Uden
The Netherlands