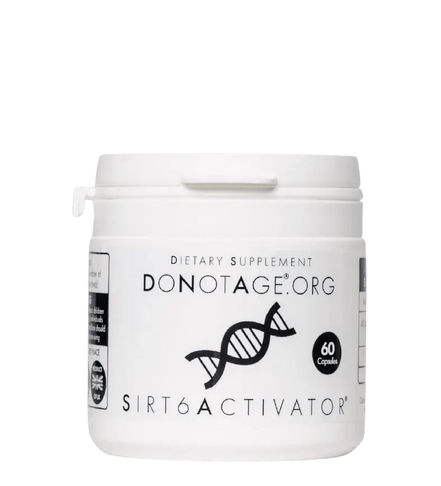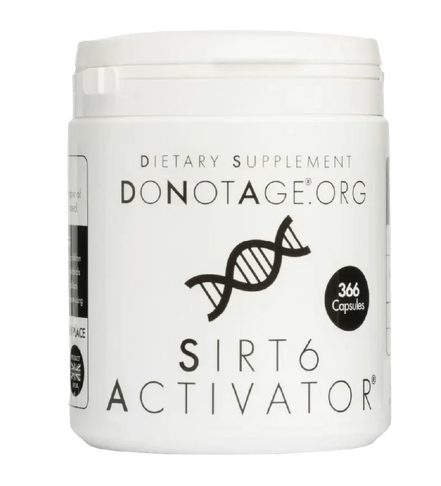 Shipping across Europe
We ship to 32 countries in Europe
SIRT6Activator
Do Not Age SIRT6Activator® is a unique supplement with activity-selected Fucus vesiculosus. Tested for SIRT6 activation. 366 capsules for 51 to 183 days.
Regular price
Sale price
€69,00
Unit price
per
---
Fast delivery throughout the EU
We ship to 32 countries
Do Not Age SIRT6Activator®
Unique activity-based seaweed supplement
Specially selected Fucus vesiculosus from around the world
Batch tested for activity
All-natural product from dried seaweed
Traditionally used seaweed
Fucus vesiculosus is a seaweed known as bladder wrack. Bladder wrack grows along coasts all over the world, such as the North Sea, Baltic Sea, Atlantic and Pacific oceans. The whole alga is traditionally used as an herbal supplement and source of iodine.
Selected based on function
Do Not Age searches the globe for Fucus vesiculosus with a special function. Professor Vera Gorbunova's laboratory tests for SIRT6 activation. SIRT6 is a gene that codes for the Sirtuin 6 protein. Do Not Age makes SIRT6Activator from Fucus vesiculosus tests positive.
Natural product, tested per batch
Fucus vesiculosus is a natural product. SIRT6Activator consists of the dried whole plant in capsule form. Most Fucus vesiculosus does not test positive, so it must be reselected every batch.
About Do Not Age
Do Not Age makes supplements and products for people who want to slow down ageing (anti-aging). Do Not Age supplements are selected on the basis of scientific research, extremely pure and reasonably priced.
Do Not Age supplements are:
Produced to GMP and ISO9001 standards.
Free from artificial ingredients, wheat, gluten, yeast, soy, corn, milk or preservatives (with some exceptions).
Suitable for vegans and vegetarians.
Recommended use
Take the desired number of capsules, before a meal.

Recommended dose based on body weight:
less than 60 kg = 800 mg per day (2 capsules)
60-100 kg = 1600 mg per day (4 capsules)
more than 100 kg = 2400 mg per day (6 capsules)
One package of Do Not Age SIRT6Activator contains 60 or 366 capsules.
Product Facts
| Composition per portion | 2 capsules | % RI |
| --- | --- | --- |
| Fucus vesiculosus whole plant [SIRT6Activator®] | 800 mg | * |
RI = Reference Intake.
* RI unknown
Ingredients:
Fucus vesiculosus, capsule (cellulose).
Allergy information:
No allergens listed
Food supplement. Category: Herbs.
A varied and balanced diet and a healthy lifestyle are important. Food supplements are no substitute for a varied diet.
Store dry, cool, away from light and outside of reach of young children.
Warning:
Do not exceed recommended daily dose.
Do not use if outer seal is broken or damaged.
If you are undergoing treatment for a medical condition or if you are pregnant or lactating, please consult your medical practitioner first.
Not suitable for pregnant or nursing women.
Not suitable for children younger than 18 years.
Made in: United Kingdom
Business operator
Do Not Age
Unit 4, Melbourne Business Court
Pride Park
Derby DE24 8LZ
United Kingdom
Imported by
LiveHelfi
Loopkantstraat 25
5405 AC Uden
The Netherlands