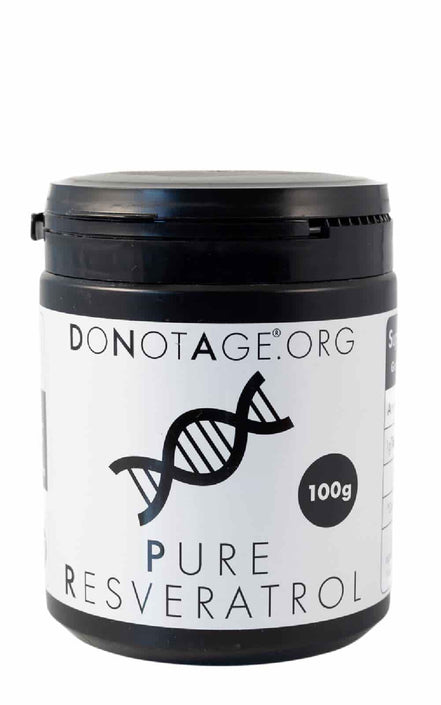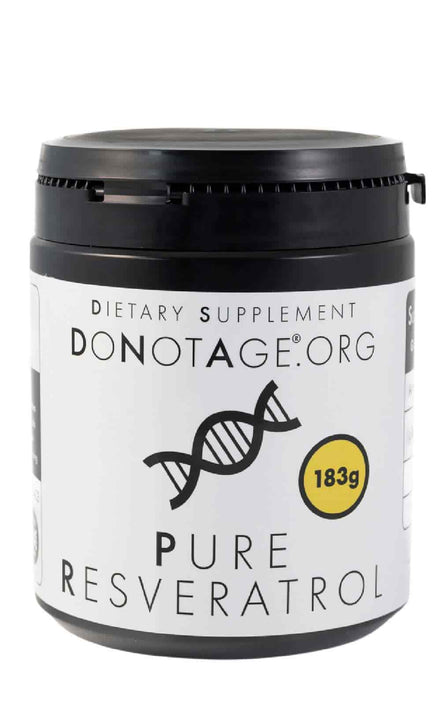 Shipping across Europe
We ship to 32 countries in Europe
Pure Resveratrol Powder
Do Not Age Pure Resveratrol Powder contains pure trans-resveratrol. No additives, no capsule. With a measuring spoon for 500 mg. Pot of 100 or 183 g.
Regular price
Sale price
€93,00
Unit price
per
---
Fast delivery throughout the EU
We ship to 32 countries
Do Not Age Pure Resveratrol Powder
Pure trans-resveratrol: the most effective form of resveratrol
With a scoop for 500 mg
For the heart and blood vessels†.
In powder form for accurate dosing and easy to take
Benefits of Resveratrol
Resveratrol is a polyphenol mainly found in the skin of red grapes. It protects the plant against mould, diseases, insects and UV light. Resveratrol is also found in small quantities in grape juice and red wine. For an effective dose of resveratrol it is best to take a supplement.
Resveratrol supports among others the heart and the blood vessels†.
† Health claim subject to approval by the European Commission.
Trans-resveratrol for best effect
Resveratrol occurs as cis- and trans- forms. Trans-resveratrol is the most stable and biologically active form. The positive properties attributed to resveratrol are therefore mainly linked to trans-resveratrol.
100% Pure trans-resveratrol without additives
Do Not Age Pure Resveratrol Powder contains only pure trans-resveratrol of synthetic origin. Nothing else, not even a capsule. The certificate of analysis can be found on the Do Not Age website.
About Do Not Age
Do Not Age makes supplements and products for people who want to slow down ageing (anti-aging). Do Not Age supplements are selected on the basis of scientific research, extremely pure and reasonably priced.
Do Not Age supplements are:
Produced to GMP and ISO9001 standards.
Free from artificial ingredients, wheat, gluten, yeast, soy, corn, milk or preservatives (with some exceptions).
Suitable for vegans and vegetarians.
Ingredients & Usage
Take 1/4 scoop (125 mg) daily with a fat source. The maximum daily intake of synthetic trans-resveratrol is 150 mg.
One package of Do Not Age Pure Resveratrol Powder contains 100 or 183 g.
Ingredients per serving
125 mg
(1/4 scoops)
Trans-resveratrol
125 mg
Ingredients:
Trans-resveratrol
Allergy information
No allergens listed
Store dry, cool, away from light and outside of reach of young children.
Dietary supplement. Category: Other.
A varied and balanced diet and a healthy lifestyle are important. Food supplements are no substitute for a varied diet.
Warnings:
People using medicines should only consume this product under medical supervision.
Not suitable for pregnant or nursing women.
Not suitable for children younger than 18 years.
Do not exceed recommended dose.
Do not use if outer seal is broken or damaged.
If you are undergoing treatment for a medical condition, please consult your medical practitioner first.
Made in the United Kingdom.
Manufacturer
Do Not Age
Unit 4, Melbourne Business Court
Pride Park
Derby
DE24 8LZ
United Kingdom
Imported by
LiveHelfi
d'n Office
Loopkantstraat 25
5405 AC Uden
The Netherlands