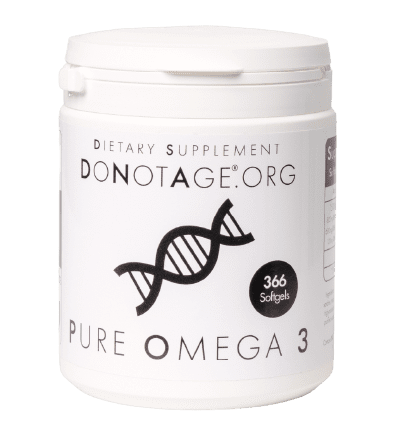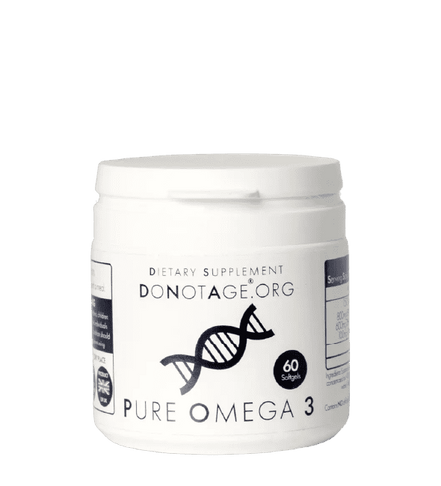 Shipping across Europe
We ship to 32 countries in Europe
Pure Omega 3
Do Not Age Pure Omega-3 contains omega-3 fish oil with 800 mg EPA and 600 mg DHA per 2 softgels. >90% omega-3 fats in triglyceride form for better absorption. For heart, vessels, brain and eyes. From sustainable fisheries. 60 or 366 softgels, for 30 or 183 days.
Regular price
Sale price
€27,00
Unit price
per
---
Fast delivery throughout the EU
We ship to 32 countries
Do Not Age Pure Omega-3
Pure omega-3 fish oil softgels
800 mg EPA and 600 mg DHA per 2 softgels

For the brain
For heart and vessels

>90% triglyceride omega-3 fats for better absorption
Sustainably sourced from ocean fish
1500 mg omega-3 fatty acids
Do Not Age Pure Omega-3 contains 1500 mg of omega-3 fatty acids per 2 softgels. Of these, 800 mg are EPA (Eicosapentaenoic acid) and 600 mg DHA (Docosahexaenoic acid). EPA and DHA deliver more benefits at higher doses.
Benefits from 250 mg of DHA or DHA+EPA per day
DHA helps keep vision normal.
DHA plays a role in the functioning of the brain.
DHA and EPA are good for the heart.
EPA and DHA help maintain normal triglyceride levels in the blood.
Benefits from 200 mg DHA + 250 mg DHA/EPA per day
Maternal intake of docosahexaenoic acid (DHA) contributes to normal eye and brain development in the foetus and breastfed infants.
Triglyceride form for good absorbability
Do Not Age Pure Omega-3 contains at least 90% omega-3 fatty acids in the triglyceride form. Omega-3 fats in our body occur mainly as triglycerides. You can therefore absorb these fats better.
Fish oil from sustainable fisheries
Do Not Age uses omega-3 fish oil from sustainably caught anchovy, mackerel and sardine from the Chilean coast. The purified fish oil is enriched in omega-3 fats and contains no impurities.
About Do Not Age
Do Not Age makes supplements and products for people who want to slow down ageing (anti-aging). Do Not Age supplements are selected on the basis of scientific research, extremely pure and reasonably priced.
Do Not Age supplements are:
Produced to GMP and ISO9001 standards.
Free from artificial ingredients, wheat, gluten, yeast, soy, corn, milk or preservatives (with some exceptions).
Suitable for vegans.
Recommended use
Take 2 softgels daily with food.
One package of Do Not Age Pure Omega-3 contains 60 or 366 softgels, sufficient for 30 of 183 days.
Product Facts
| Composition per portion | 2 softgels | % RI |
| --- | --- | --- |
| Total omega-3 | 1,500 mg | * |
| o EPA (eicosapentaneoic acid) | 800 mg | * |
| o DHA (docosahexaneoic acid) | 600 mg | * |
| o Other omega-3 fatty acids | 100 mg | * |
RI = Reference Intake.
* RI unknown
Ingredients:
Sustainably harvested fish oil (anchovy, sardine, mackerel), purified and concentrated as >90% triglyceride omega-3, softgel shell (gelatin, glycerin, purified water), mixed natural tocopherols (vitamin E) as antioxidant.
Allergy information:
contains fish.
Food supplement. Category: Fats.
A varied and balanced diet and a healthy lifestyle are important. Food supplements are no substitute for a varied diet.
Store dry, cool, away from light and outside of reach of young children.
Warning:
Do not exceed recommended daily dose.
Do not use if outer seal is broken or damaged.
Supplementary daily intake of EPA and DHA combined should not exceed 5 g.
Made in: United Kingdom
Manufacturer
Do Not Age
Unit 4, Melbourne Business Court
Pride Park
Derby DE24 8LZ
United Kingdom
Imported by
LiveHelfi
Loopkantstraat 25
5405 AC Uden
The Netherlands