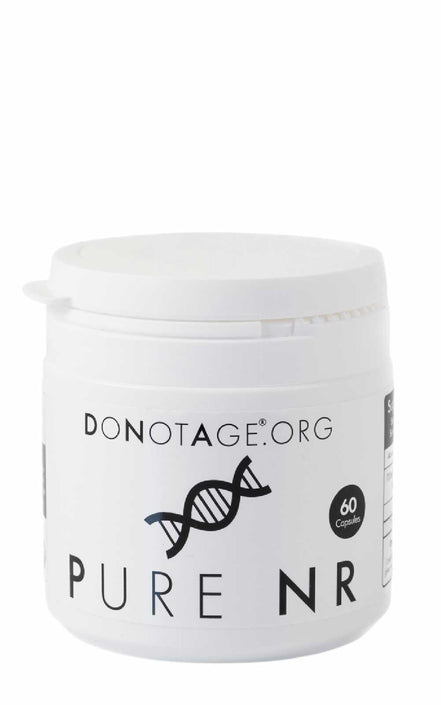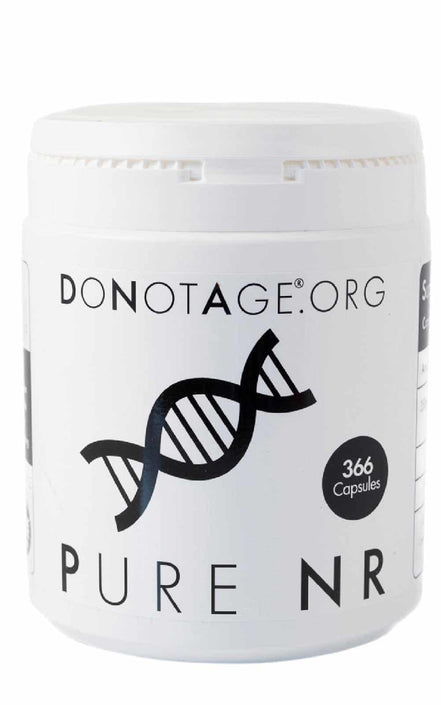 Shipping across Europe
We ship to 32 countries in Europe
Pure NR
Do Not Age Pure NR Capsules provide 350 mg of pure nicotinamide riboside per capsule. Precursor to NAD+ and form of vitamin B3. 60/366 capsules for 60/366 servings.
Regular price
Sale price
€51,00
Unit price
per
---
Fast delivery throughout the EU
We ship to 32 countries
Do Not Age Pure NR Capsules
Nicotinamide riboside (NR), precursor of NAD
Pure NR, without other ingredients
In capsule
350 mg NR per capsule
NAD+ and nicotinamide riboside
Nicotinamide Adenine Dinucleotide (NAD+) is an energy-supplying molecule that every cell uses. The mitochondria, the cell's power plants, in particular, make extensive use of NAD+. NAD+ also acts as a signalling compound.
Cells can make NAD+ from nicotinamide riboside, a natural form of vitamin B3.
Pure Nicotinamide Riboside
Do Not Age Pure NR is pure nicotinamide riboside. Each capsule provides 350 mg NR. The only other ingredient is the cellulose capsule. Pure NR is therefore free of fillers and other ingredients.
Benefits of nicotinamide riboside (as vitamin B3)
Contributes to normal energy metabolism.
contributes to extra energy in fatigue/fatigue.
contributes to the proper functioning of the nervous system.
contributes to normal mental performance and psychological functioning.
aids normal functioning of the skin and mucous membranes.
About Do Not Age
Do Not Age makes supplements and products for people who want to slow down ageing (anti-aging). Do Not Age supplements are selected on the basis of scientific research, extremely pure and reasonably priced.
Do Not Age supplements are:
Produced to GMP and ISO9001 standards.
Free from artificial ingredients, wheat, gluten, yeast, soy, corn, milk or preservatives.
Suitable for vegans and vegetarians.
Ingredients & Use
Take 1 capsule daily, with or without a meal.
One package of Do Not Age Pure NR contains 60 or 366 capsules, sufficient for 60 or 366 portions.
Composition per portion
1 capsule
% RI
Nicotinamide riboside chloride
350 mg /
926 mg NE
5788%
RI = Reference Intake.
* RI unknown
NE = Niacin equivalent, a standardised measure of vitamin B3 activity
Ingredients:
Nicotinamide riboside chloride, capsule (cellulose).
Allergy information:
No allergens listed.
Food supplement. Category: Vitamins.
A varied and balanced diet and a healthy lifestyle are important. Food supplements are no substitute for a varied diet.
Warning:
Do not exceed recommended dose.
Do not use if outer seal is broken or damaged.
If you are undergoing treatment for a medical condition or if you are pregnant or lactating, please consult your medical practitioner first.
Made in: United Kingdom
Manufacturer
Do Not Age
Unit 4, Melbourne Business Court
Pride Park
Derby DE24 8LZ
United Kingdom
Imported by
LiveHelfi
Loopkantstraat 25
5405 AC Uden
The Netherlands