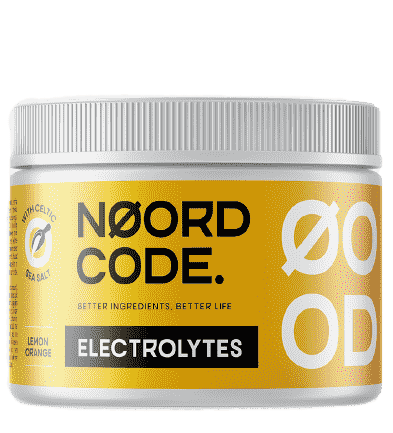 Shipping across Europe
We ship to 32 countries in Europe
Electrolytes Lemon Orange
NoordCode Electrolytes Lemon Orange is a tasty, functional electrolyte drink mix. Zero sugar. Free of artificial and unnecessary additives. The European alternative to LMNT. Suitable for a keto, low-carb, paleo or vegan diet. Jar of 250 g, for 31 servings.
Regular price
Sale price
€29,95
Unit price
per
---
Fast delivery throughout the EU
We ship to 32 countries
NoordCode Electrolytes Lemon Orange
Ready to use electrolyte drink mix with sodium, potassium and magnesium

Hydration and water balance1
Muscle function2
Nervous system function2 and psychological function1
Normal blood pressure3

With fresh lemon orange flavour
Zero sugar
Zero carbs
Clean as can be, so no artificial or unnecessary additives
Dissolves easily
Great combination of salty and sweet
Well-researched mineral ratio
Highest quality of ingredients
Suitable for keto, paleo, vegan diets and fasting
1 Magnesium
2 Potassium and Magnesium
3 Potassium
The importance of electrolytes
Electrolytes are charged particles (often minerals) that perform important bodily functions. Well-known electrolytes are sodium, potassium, magnesium, calcium and chloride. You get these substances from food and lose them through sweat and urine. In addition, you can take them with a supplement.
When to take extra electrolytes
In these situations, you might consider taking more electrolytes:
After getting up to start the day properly hydrated.
Salt helps with water absorption. Water together with a little salt hydrates more than water alone.
When you sweat a lot, such as during sports or hot weather.
Through sweat, you lose both water and electrolytes. Add both to maintain your water balance.
When you follow a low-carbohydrate/ketogenic diet.
The body retains more salt when you eat carbohydrates daily. Therefore, when your carbohydrate intake is low, you lose electrolytes faster.
When you eat a lot of fresh produce that is low in salt.
Processed foods often contain added salt. If you cook with fresh produce yourself, you often don't add as much salt.
When (water) fasting.
It is wise to take electrolytes when you are fasting. Among other things, this helps with your energy levels and fatigue.
In these situations, you need to pay more attention to your electrolyte intake. An electrolyte supplement helps to do that in an easy and tasty way.
Optimal electrolytes ratios
The composition of NoordCode Electrolytes is:
1000 mg sodium
400 mg potassium (20% RI)
76 mg magnesium (20% RI)
NoordCode has based this optimal electrolytes ratio on the following factors.
Sodium:potassium ratio
The body uses sodium and potassium together to maintain the amount of water inside and outside cells. The optimal ratio of sodium:potassium in this regard is 3:2.
NoordCode opts for a ratio of sodium:potassium of 5:2. This assumes you also get potassium through food, such as fruit, potatoes, meat, avocado and leafy vegetables. So your total sodium:potassium intake will still end up at the ideal 3:2 ratio.
The amount of magnesium
You get most magnesium from magnesium-rich foods such as leafy greens, nuts and seeds. 76 mg of magnesium makes a nice contribution to your daily intake.
High-quality minerals
NoordCode uses Celtic sea salt as a source of sodium. Besides sodium, this salt contains many other trace minerals that give this salt its characteristic colour and rich flavour. Celtic sea salt is a natural source of sodium that has not been chemically processed. NoordCode uses Celtic sea salt that is tested free of heavy metals and microplastics.
The 76 mg of magnesium comes from Aquamin™ Mg, magnesium hydroxide from seawater.
Lemon-orange-flavoured electrolyte mix
The fresh lemon-orange flavour comes from natural flavours and is sweetened with stevia.
NoordCode Electrolytes is zero sugar and contains very few carbohydrates. The calories per serving are so low that it does not interfere with your (water) fasting. It is as clean as can be and free from allergens, GMOs, and maltodextrin. This makes it a perfect fit for a ketogenic or low-carbohydrate diet.
Other flavours
NoordCode Electrolytes is available in several flavours.
European alternative to LMNT Recharge Electrolytes
The most well-known and popular electrolyte mix is LMNT Recharge. Unfortunately, LMNT no longer supplies Europe. NoordCode Electrolytes is the European alternative for LMNT Electrolytes.
Benefits of NoordCode Electrolytes
The minerals in NoordCode Electrolytes Lemon Orange provide the following benefits.
Energy
Magnesium supports your energy levels.
Magnesium helps to reduce fatigue and fatigue.
Muscle and nerve function
Potassium and Magnesium are important for normal muscle function.
Potassium and Magnesium support the normal function of nerve cells.
Magnesium plays a role in pulse transmission between (nerve) cells.
Magnesium contributes to normal mental capacity.
Blood pressure and water balance.
Potassium maintains normal blood pressure.
Magnesium provides support in maintaining normal water and mineral balance.
Further benefits
Magnesium contributes to the maintenance of strong bones and teeth.
Magnesium plays a role in tissue growth and development.
Magnesium helps in building body protein.
NoordCode supplements: made by expert formulators
NoordCode is the product line of Eduard de Wilde, founder and CEO of LiveHelfi. NoordCode provides high-quality, functional nutrition and supplements.
The supplements are carefully formulated by experienced supplement formulators. They contain the most effective and active ingredients in transparent formulas. You know exactly what you are getting and can trust that it works.
Recommended use
Dissolve 8 grams (2 scoops) in 500 ml water using a shaker or blender.
You can control the saltiness. Choose a bold version with little water, or add more water to keep it subtle.

Leave the desiccant pouch in the container and close the lid quickly and fully between uses to prevent clumping.
One package of NoordCode Electrolytes Lemon Orange contains 250 g, sufficient for 31 portions.
Product Facts
| Nutritional value per portion | 100 g (% RI) | 8 g (% RI) |
| --- | --- | --- |
| Energy | 14 kcal / 59 kJ (1%) | 1 kcal / 5 kJ (0%) |
| Fats | 0 g (0%) | 0 g (0%) |
| Carbohydrates | 2.2 g (1%) | 0.176 g (0%) |
| o Sugar | 0.2 g (0%) | 0 g (0%) |
| Fibre | 0.1 g (*) | 0 g (*) |
| Salt | 34.38 g (*) | 2.75 g (*) |
| Composition per portion | 8 g | % RI |
| --- | --- | --- |
| Sodium (from Celtic sea salt) | 1,060 mg | * |
| Potassium (as potassium citrate) | 408 mg | 20% |
| Magnesium (as magnesium hydroxide from sea minerals [Aquamin™ Mg Soluble]) | 76 mg | 20% |
RI = Reference Intake.
* RI unknown
Ingredients:
celtic sea salt, acidity regulators (malic acid, citric acid), potassium citrate, natural lemon and orange flavourings, sweetener: steviol glycosides of stevia, magnesium hydroxide from sea minerals [Aquamin™ Mg].
Allergy information:
Made in a factory where dairy products are handled. Cross contamination cannot be excluded..
Food supplement. Category: Minerals.
A varied and balanced diet and a healthy lifestyle are important. Food supplements are no substitute for a varied diet.
Store dry, cool, well-sealed, away from light, and out of reach of young children. Keep the silica gel bag in the jar.
Warning:
Do not exceed daily recommended dose.
Do not use if outer seal is broken or damaged.
Made in: The Netherlands
Manufacturer
NoordCode
Loopkantstraat 25
5405 AC Uden
The Netherlands