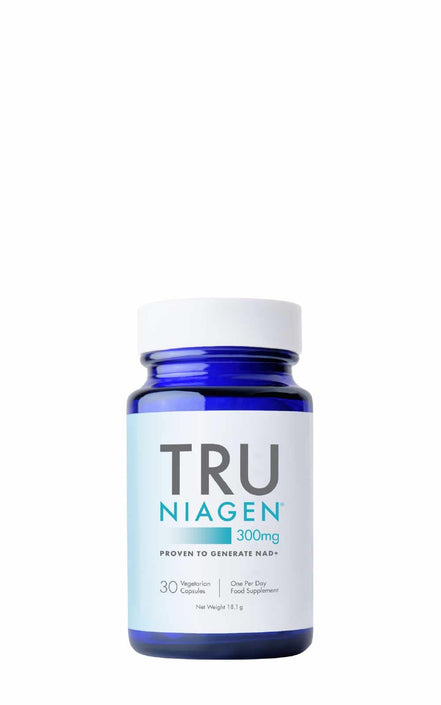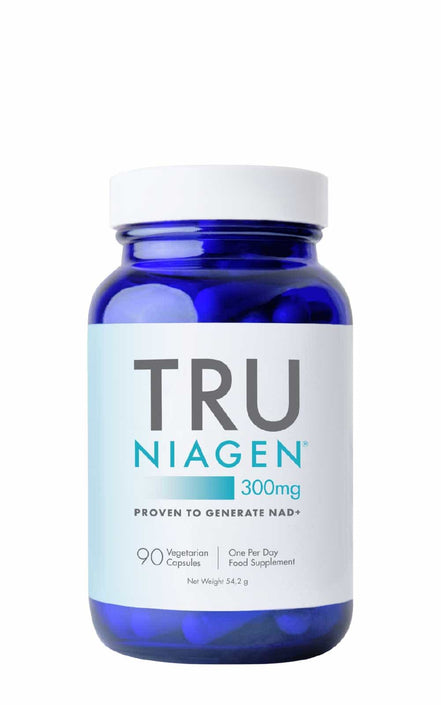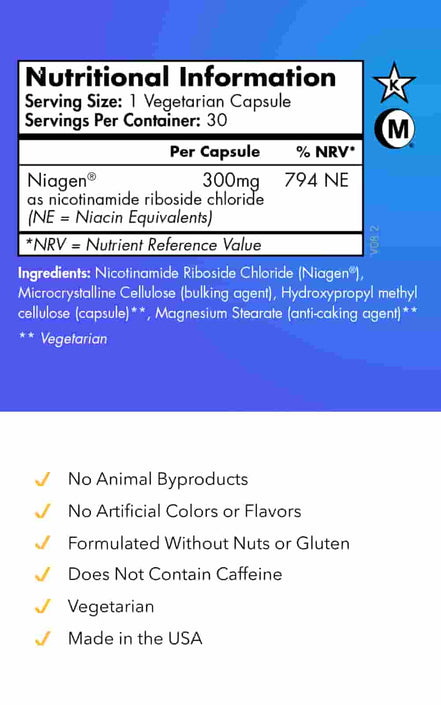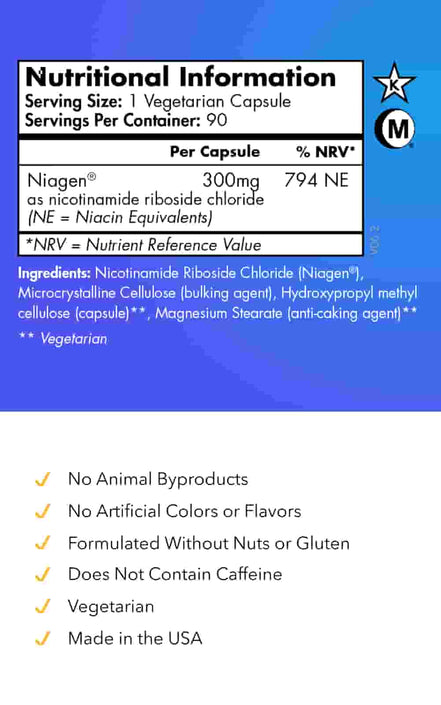 Shipping across Europe
We ship to 32 countries in Europe
Tru Niagen 300 mg
ChromaDex Tru Niagen with 300 mg nicotinamide riboside chloride, a natural form of vitamin B3 and the precursor to NAD+. 30 or 90 capsules for 30 or 90 days.
Packaging may vary.
Regular price
Sale price
€49,95
Unit price
per
---
Fast delivery throughout the EU
We ship to 32 countries
ChromaDex Tru Niagen 300 mg
NAD+ and nicotinamide riboside
Nicotinamide Adenine Dinucleotide (NAD+) is an energy-supplying molecule that is used by every cell. It is especially the energy centres of a cell - the mitochondria - that utilize a lot of NAD+. The amount of NAD+ in cells decreases as we get older.
Cells can produce NAD+ from nicotinamide riboside, a natural form of vitamin B3.
Benefits of Nicotinamide Riboside (as Vitamin B3)
contributes to normal energy metabolism
contributes extra energy by fatigue/tiredness
contributes to the proper functioning of the nervous system
contributes to normal mental performance and psychological functioning
helps with the normal functioning of the skin and mucous membranes
Tru Niagen
Tru Niagen is currently the only commercially available form of nicotinamide riboside. Niagen has been tested in five clinical trials for its safety and efficacy and has been verified as safe by the American FDA (Food and Drug Administration).
Tru Niagen is completely vegetarian, contains no gluten, nuts, caffeine, nor artificial colours or artificial flavourings.
Ingredients & Usage
Take 1 capsule daily in the morning with or without a meal.
Tru Niagen is available in containers of 30 and 90 capsules, sufficient for 30 and 90 days.
| Ingredients per dose | 1 capsule | % RDA |
| --- | --- | --- |
| Nicotinamide riboside chloride [NIAGEN®] | 300 mg / 794 NE | 4775 % |
RDA = standard recommended daily intake based on a daily intake of 2000 kcal.
* RDA unknown
NE = Niacin equivalent, a standardised measure of vitamin B3 activity
Additional ingredients:
Microcrystalline cellulose (bulking agent), hydroxypropylmethylcellulose (vegetarian capsule), magnesium stearate (vegetarian anti-caking agent)
Allergy information
No allergens listed
Store in a cool and dry place, away from light.
Tru Niagen is a dietary supplement that falls within the category of Vitamins and is no replacement for a healthy and balanced diet and/or lifestyle.
Warnings:
Keep out of reach of children.
Do not exceed recommended dose.
Do not use if outer seal is broken or damaged.
If you are undergoing treatment for a medical condition or if you are pregnant or lactating, please consult your medical practitioner first.
Made in the United States.
Manufacturer
ChromaDex
10005 Muirlands Blvd., Suite G
Irvine, CA 92618
United States
Imported by
LiveHelfi
d'n Office
Loopkantstraat 25
5405 AC Uden
The Netherlands