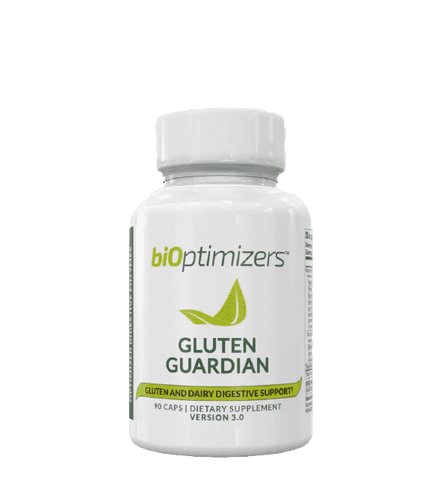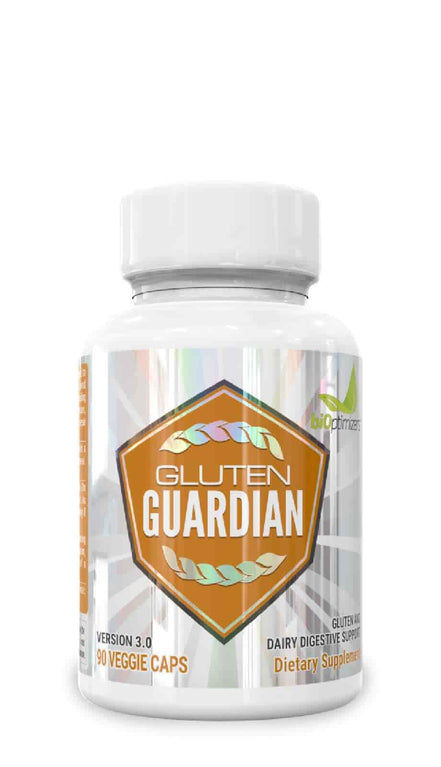 Shipping across Europe
We ship to 32 countries in Europe
Gluten Guardian
BiOptimizers Gluten Guardian contains 10 digestive enzymes for protein and carbohydrates. In case of sensitivity to gluten or casein. 90 capsules, for 30 servings.
Packaging may vary.
Regular price
Sale price
€69,95
Unit price
per
---
Fast delivery throughout the EU
We ship to 32 countries
BiOptimizers Gluten Guardian
Supports digestion of carbohydrates and proteins
Enzymes for the digestion of proteins and carbohydrates
Enzymes are proteins that produce a chemical reaction. Enzymes are, among other things, part of the digestive process involved in transforming carbohydrates, proteins and fats from food into easily digestible pieces.
The name of an enzyme indicates its function. For example:
Protease: an enzyme that breaks down proteins
Amylase: an enzyme that breaks down carbohydrates
BiOptimizers Gluten Guardian contains enzymes that help digest gluten and casein, two proteins that are difficult to digest or may cause irritation. If you are sensitive to dairy or cereal products, consider using Gluten Guardian beforehand, for example when you are not preparing your own meal.
Support from digestive enzymes
The Gluten Guardian enzymes are supplemented with AstraZyme™, a patented mix of enzymes and extracts from Astragalus and Panax ginseng. AstraZyme supports the working of the digestive enzymes so that they can be more effective at a lower dosage.
All the benefits of BiOptimizers Gluten Guardian
6 enzymes for digestion of proteins and 4 enzymes for digestion of carbohydrates
For better absorption of e.g. gluten and casein
Enhanced efficiency of enzymes due to the addition of AstraZyme
Free of fillers, artificial colours, flavourings and preservatives
No GMOs, soy or dairy
Suitable for vegetarians
Ingredients & Usage
Take 3 capsules with a glass of water at the start of a meal.
One package of BiOptimizers Gluten Guardian contains 90 capsules, sufficient for 30 portions.
Ingredients per serving
3 capsules
% RDA
Protein digestion
o Peptidase DPP-IV
6.000 DPP IV
*
o Protease
288.000 HUT
*
o Neutral Bacterial Protease
18.000 PC
*
o Alkaline Protease
3.600 PC
*
o Acid Stable Protease
600 ASPU
*
o AstraZyme™ (patented blend of proteolytic enzymes
with extracts of astragalus / notoginseng
and trace minerals)
150 mg
*
Carbohydrate digestion
o Amylase
45.500 SKB
*
o Bacterial amylase
3.600 BAU
*
o Lactase
2.400 ASPU
*
o Glucoamylase
60 AG
*
Trace minerals
30 mg
*
RDA = standard recommended daily intake based on a daily intake of 2000 kcal.
* RDA unknown
Measure of enzyme activity:
ASPU = Acid Stable Protease Units
AG = Amyloglucosidase Units
BAU = Bacterial Amylase Units
DPP-IV
PC
SKB = Sandstedt, Kneen, and Blish units
AstraZyme is a trademark of Enzymology Research Center, Inc.
Additional ingredients:
Plant-based cellulose, rice extract, water
Allergy information
No allergens listed
Store in a cool and dry place, away from light.
BiOptimizers Gluten Guardian is a dietary supplement that falls within the category of Enzyme and is no replacement for a healthy and balanced diet and/or lifestyle.
Warnings:
Do not use if you suffer from a stomach ulcer or stomach infection.
Keep out of reach of children.
Do not exceed recommended dose.
Do not use if outer seal is broken or damaged.
If you are undergoing treatment for a medical condition or if you are pregnant or lactating, please consult your medical practitioner first.
Made in the United States.
Manufacturer
BiOptimizers USA Inc.
5470 Kietzke Lane, Suite 300
Reno, NV 89511
United States
Imported by
LiveHelfi
d'n Office
Loopkantstraat 25
5405 AC Uden
The Netherlands