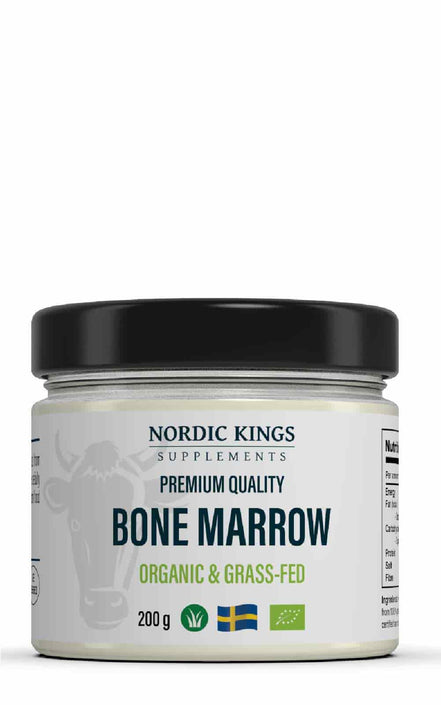 Shipping across Europe
We ship to 32 countries in Europe
Organic Bone Marrow
Nordic Kings Bone Marrow is filtered bone marrow from grass-fed, Swedish cattle. Nutritious and tasty fat for frying or as an ingredient. Organic and KRAV certified. Glass jar containing 200 g.
Regular price
Sale price
€29,95
Unit price
per
---
Fast delivery throughout the EU
We ship to 32 countries
Nordic Kings Bone Marrow
Pure bone marrow: nutritious and tasty fat
Filtered bone marrow without additives
From grass-fed and free-grazing Swedish cattle
Organic and KRAV certified
Use as frying fat instead of butter or oil
Bone marrow is nutritious fat
Bone marrow is found in the hollow interior of bones. In this fat-rich tissue, the body makes white and red blood cells. Traditional dishes use bone marrow in stews or soups. Nowadays, its use is less, as are many types of organ meats.
Bone marrow is naturally high in fat, vitamins and minerals. The fat composition is about half to half saturated and unsaturated fat. Bone marrow also contains linoleic acid, an essential omega-6 fatty acid.
Purified bone marrow without additives
Bone marrow straight from bone also contains connective tissue and some protein. Nordic Kings carefully filters the bone marrow to extract the bits of tissue. They package this in glass jars for convenience in the kitchen. Nordic Kings Bone Marrow contains 100% bone marrow with no additives.
Independently tested for composition and heavy metals
Nordic Kings Bone Marrow is checked for and free of the following heavy metals.
Arsenic (As)
Cadmium (Cd)
Chromium (Cr)
Copper (Cu)
Lead (Pb)
Mercury (Hg)
Zinc (Zn)
The composition of the fat has also been studied and can be seen in the ingredient section.
Versatile ingredient and cooking fat
You can use bone marrow in several ways. It is solid at room temperature and has a mild flavour of its own.
Use it for cooking instead of butter or oil
Use it as a spread for bread or toast
Add it to soup or stew
Make your own bone broth by mixing it with Beef Bone Broth Powder and boiling water
Add it to Upgraded Coffee
The highest quality and animal welfare
Nordic Kings selects the most animal-friendly and therefore the best quality cattle. With animal products, more animal welfare also means better quality. The better the animal lives, the higher the quality and nutritional value of the products.
From Swedish cattle that were able to graze freely
Grass is the most natural and healthy food for cattle. Nordic Kings uses cattle that eat grass all year round. The cattle can graze freely in the summer and are given silage in the winter. Silage is made by fermenting cut grass. This process takes place naturally by making grass mounds or bales.
Organic and KRAV-certified cattle
The cattle of Nordic Kings are raised according to organic and KRAV guidelines. KRAV is a Swedish quality mark that, in addition to the organic origin, also has guidelines for animal welfare, sustainability and attention to the surroundings and the environment.
Ingredients & Usage
Use as a cooking fat instead of butter or oil.
Make a quick bone broth by combining bone marrow and bone broth powder with boiling water.
Use a clean spoon each time you use the marrow, and seal the jar tightly after each use to protect it from moisture and air.
The shelf life of Bone Marrow (unopened) is 12 months when refrigerated and 3 months when stored at room temperature. The shelf life is 6 months after opening when stored refrigerated.
Nordic Kings Bone Marrow is stored refrigerated at our warehouse, giving you the best possible shelf life upon delivery.
One package of Nordic Kings Bone Marrow contains 200 g.
| Nutritional value per portion | 100 g | % RI |
| --- | --- | --- |
| Energy | 900 kcal / 3700 kJ | 45% |
| Fats | 100 g | 143% |
| o Saturated | 45 g | 225% |
| o Mono-unsaturated | 44 g | * |
| o Poly-unsaturated | 3 g | * |
| Carbohydrates | 0 g | 0% |
| Fibre | 0 g | * |
| Protein | 0 g | 0% |
| Salt | 0 g | 0% |
RI = Reference Intake.
* RI unknown
| Fatty acid composition (typical values) | % |
| --- | --- |
| Miristic Acid | 2 % |
| Palmitic Acid | 23 % |
| Palmitoleic Acid | 4 % |
| Stearic Acid | 17 % |
| Oleic Acid | 42 % |
| Linoleic | 3 % |
| Others | 9 % |
Ingredients:
100% grass fed and organic bone marrow
Allergy information
No allergens listed
Store dry, dark and out of reach of young children. Store in the fridge for best shelf life.
Warnings:
Do not use if outer seal is broken or damaged.
Made in Sweden.
Manufacturer
Nordic Kings Supplements AB
Missionsvägen 4
269 72 Förslöv
Sweden