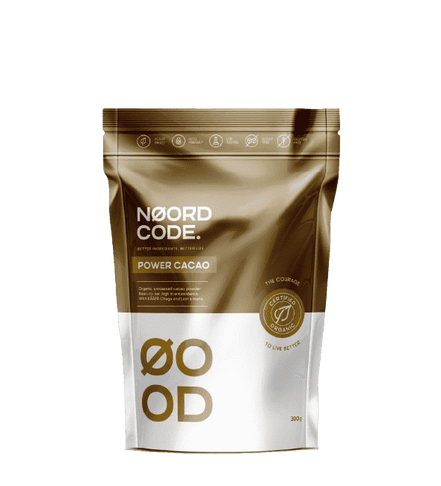 Shipping across Europe
We ship to 32 countries in Europe
Organic Power Cacao
NoordCode Power Cacao offers a delicious base for cocoa drinks. Organic, raw Criollo cocoa with Lion's Mane and Chaga extracts. Rich flavour of Ceylon cinnamon, vanilla, and inulin. 300 g for 20 servings.
Regular price
Sale price
€27,95
Unit price
per
---
Fast delivery throughout the EU
We ship to 32 countries
NoordCode Power Cacao
Delicious base for cocoa drinks
Organic cocoa powder with mushroom extracts
Organic, raw, unalkalised Criollo cocoa
Lion's Mane and Chaga extracts from KÄÄPÄ Mushrooms
For chocolate lovers or instead of coffee
Functional cocoa powder with mushroom extracts and fibre
NoordCode Power Cocoa combines polyphenol-rich, raw organic Criollo cocoa with powerful mushroom extracts from KÄÄPÄ Mushrooms. Maca, Ceylon cinnamon, vanilla and inulin round out the formula for a functional and tasty cocoa powder. Delicious as a cocoa drink and excellent as an addition to (sweet) dishes.
With functional and organic flavourings
The rich flavour of Criollo cocoa is combined with the sweetness of organic maca and inulin. Inulin is a prebiotic fibre that naturally has a sweet taste but does not affect your blood sugar levels. Hydrolysed inulin is used in Power Cocoa, which reduces the risk of gas.
Ceylon cinnamon, vanilla extract and a hint of sea salt offer an extra layer of deeper flavours. The balanced sweetness comes with a low sugar content (just 1.2g per serving), making it fit into all diets.
High-quality, minimally processed Criollo cocoa
Criollo cocoa is known for its unique, rich flavour which is held as the highest standard of quality. Only 5% of the world's cocoa comes from Criollo cocoa trees. Its production and processing is completely focused on maintaining its outstanding flavour. This unique product is therefore hugely popular among cocoa lovers.
Bean to bar production
NoordCode uses cocoa powder made according to the bean to bar concept. Bean to bar means that the chocolate producer controls all processing steps from the cocoa (bean) to the chocolate bar. The producer has a direct relationship with cocoa farmers and pays a fair price for cocoa. This allows farmers to focus on producing superior cocoa sustainably.
The cocoa powder in Power Cacao comes from Peru. NoordCode opts for maximum polyphenol retention and minimising the risk of mould growth when processing.
Maximum polyphenol retention through minimal processing
Cocoa beans are naturally rich in polyphenols and other beneficial compounds. The usual processing of cocoa beans into cocoa powder reduces the amount of polyphenols. Especially when roasting and alkalising cocoa, many polyphenols are lost.
NoordCode opts for maximum preservation of polyphenols by not roasting and alkalising the cocoa. This allows the cocoa to retain its natural flavour profile, which is very different from 'normal' cocoa powder. Raw cocoa has a lighter colour and more bitter flavours, which come from the polyphenols. You also taste some sour flavours, because the cocoa is not alkalised. This together gives the cocoa powder more depth and a unique flavour.
Concentrated mushroom extracts from KÄÄPÄ Mushrooms
KÄÄPÄ Mushrooms is a Finnish producer of potent mushroom extracts. They use the fruiting bodies of organically grown or wild-picked mushrooms, where most of the useful substances can be found. Ultrasonic Assisted Extraction (UAE) gently breaks open the mushroom cells to extract as many useful substances from the mushrooms as possible. The extract of water and alcohol is then sprayed into powder containing the useful mushroom substances. KÄÄPÄ Mushrooms' powder extracts are a perfect addition to NoordCode Power Cocoa in terms of function and flavour.
225 mg Lion's Mane extract
Lion's Mane (Hericium erinaceus) gets its name from the floppy spines reminiscent of a lion's mane. Lion's Mane is found in Europe, North America and Asia and is traditionally used in China.
KÄÄPÄ Mushrooms grows Lion's Mane itself on birch logs organically.
Each serving of Power Cacao contains 225 mg of Lion's Mane extract.
135 mg Chaga extract
Chaga (Inonotus obliquus) is found in the northern regions of Europe and Asia and has been traditionally used there for centuries. The fungus grows mainly in birch trees and has a characteristic cracked, blackened appearance with a red-orange core.
KÄÄPÄ Mushrooms makes their extract with wild-harvested chaga from Lapland, in northern Finland. Due to the cold winters and unpolluted nature, you can find the best quality and most effective chaga in Lapland.
Each serving of Power Cacao contains 135 mg of Chaga extract.
Organic and lab-tested
Power Cacao is completely organic and lab-tested free of mycotoxins, heavy metals and other contaminants. All ingredients are plant-based and suitable for vegans. Power Cacao contains no added sugar and therefore fits into a paleo, ketogenic and low-carbohydrate diet. Power Cacao is free of gluten.
NoordCode supplements: made by expert formulators
NoordCode is the product line of Eduard de Wilde, founder and CEO of LiveHelfi. NoordCode provides high-quality, functional nutrition and supplements.
The supplements are carefully formulated by experienced supplement formulators. They contain the most effective and active ingredients in transparent formulas. You know exactly what you are getting and can trust that it works.
Recommended use
Cocoa drink
Mix 15 g (2 tablespoons) with 200 ml of liquid of your choice.

Upgraded chocolate milk
- 200 mL warm (vegetable) milk
- 5-15 mL MCT oil
- 5-15 g g ghee or butter
- 1-2 tablespoons of Power Cocoa
Blend in a blender until everything is mixed and a froth forms.

You can also use NoordCode Power Cacao:
- In smoothies or yoghurt bowls
- For power balls and chocolate mousse
One package of NoordCode Power Cacao contains 300 g, sufficient for 20 portions.
Product Facts
| Nutritional value per portion | 100 g (% RI) | 15 g (% RI) |
| --- | --- | --- |
| Energy | 327 kcal / 1368 kJ (16%) | 49 kcal / 205 kJ (2%) |
| Fats | 6.1 g (9%) | 0.9 g (1%) |
| o Saturated | 3.3 g (16%) | 0.5 g (2%) |
| Carbohydrates | 32 g (12%) | 4.8 g (2%) |
| o Sugar | 8.1 g (9%) | 1.2 g (1%) |
| Protein | 17 g (34%) | 2.6 g (5%) |
| Fibre | 38 g (*) | 5.7 g (*) |
| Salt | 0.2 g (*) | 0.03 g (*) |
| Composition per portion | 15 g | % RI |
| --- | --- | --- |
| Lion's Mane fruiting body extract (Hericium erinaceus) | 225 mg | * |
| Chaga extract (Inonotus obliquus) | 135 mg | * |
RI = Reference Intake.
* RI unknown
Ingredients:
organic cocoa powder (non-alkalized) 49.4%, organic maca powder 30%, organic chicory oligofructose (partial enzymatically hydrolysed inulin) 15%, organic Ceylon cinnamon (Cinnamomum verum) 2.5%, organic Lion's Mane (Hericium erinaceus) extract powder (225 mg / 15 g portion), organic Chaga (Inonotus obliquus) extract powder (135 mg / 15 g portion), organic vanilla extract, unrefined grey sea salt.
Allergy information:
May contain soy, milk and nuts..
Food supplement. Category: Herbs.
A varied and balanced diet and a healthy lifestyle are important. Food supplements are no substitute for a varied diet.
Store dry, cool, away from light and outside of reach of young children.
Warning:
Do not exceed recommended daily dose.
Do not use if outer seal is broken or damaged.
If you are undergoing treatment for a medical condition or if you are pregnant or lactating, please consult your medical practitioner first.
Made in: Slovakia
Manufacturer
NoordCode
Loopkantstraat 25
5405 AC Uden
The Netherlands