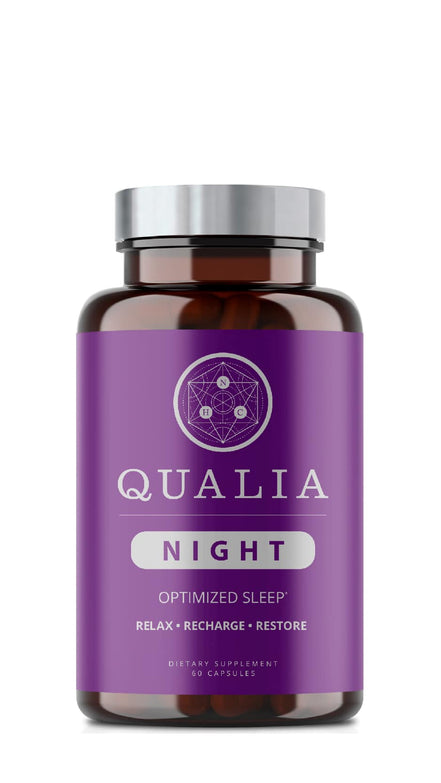 Shipping across Europe
We ship to 32 countries in Europe
Qualia Night
Qualia Night is a nootropic stack supplement for the complete support of sleep. For better sleep quality and mental performance the next day. 60 capsules for 15 dosages.
Regular price
Sale price
€69,00
Unit price
per
---
Fast delivery throughout the EU
We ship to 32 countries
Neurohacker Collective Qualia Night
Qualia Night is a nootropic stack supplement designed for the complete support of sleep. Nootropics are supplements that support mental performance. Normally you take nootropics at the beginning of the day or just before you have a mentally difficult task. Qualia Night indirectly improves mental performance by supporting your sleep. A good night's sleep is the foundation for mental performance such as energy, motivation, focus, alertness and mood.
Qualia Night: a gentle sleep supplement
You can't take a good night's sleep for granted. Inadvertently, we can allow ourselves to be quickly surrounded by sleep disturbing factors, such as bright light in the evening, stress or anxiety, physical activity and a restless sleep environment. These factors are not always under your control, which is why a sleep supplement can be useful.
Qualia Night is designed to improve sleep without sedative effect. Many other sleep supplements contain melatonin, a natural sleep hormone, and other ingredients that help you fall asleep quickly. The purpose of Qualia Night is to support the different processes that contribute to sleep, not just the melatonin system. Qualia Night doesn't contain melatonin, but makes use of 25 nutrients and extracts of herbs & mushrooms.
Neurohacker Collective Qualia supplements
Qualia is the supplements line of Neurohacker Collective, an organisation dedicated to promoting mental performance. Qualia supplements are carefully composed based on scientific research into each ingredient.
The benefits of Qualia Night
Energy
Ashwagandha and vitamin B6 support energy levels
Reishi and vitamin B6 help to reduce fatigue and tiredness
Mental performance / brain / sleep
Vitamin B6 and ashwagandha contribute to normal mental performance
Vitamin B6 contributes to a normal functioning of the nervous system
Ashwagandha helps you fall asleep faster
Antioxidants and adaptogens
Holy basil contains natural antioxidants
Ashwagandha and holy basil contribute to mental resilience
Qualia Night Ingredients & Usage
Take up to 4 capsules at dinner or several hours before bedtime. This product is non-sedating and designed to be taken earlier in the evening (unlike before bedtime sleep aids).
Neurohacker Collective Qualia Night comes in 60 capsules, for 15 servings.
Take 5 days a week
Qualia Night is designed to be taken 5 days on and 2 days off each week. It does not matter if the "off-cycle" days are consecutive or apart, so long as they happen each week.
Other Neurohacker Collective supplements
Compatible with other Neurohacker Collective products:
One of the Qualia Mind variants:
Ingredients per serving
4 capsules
% RDA
Vitamin B6 (as pyridoxal 5'-phosphate)
1.6 mg
114 %
Magnesium (as magnesium glycinate)
50 mg
13 %
Reishi mushroom (Ganoderma lucidum) fruiting body extract
500 mg
*
Holy basil (Ocimum sanctum) leaf extract
250 mg
*
Hawthorn leaf and flower extract
160 mg
*
Gotu kola (Centella asiatica) whole herb extract
150 mg
*
KSM-66 Ashwagandha® (Withania somnifera) root extract
150 mg
*
Schisandra chinensis fruit extract
130 mg
*
Wild blueberry fruit extract
100 mg
*
Polygala tenuifolia root extract
100 mg
*
Ziziphus jujuba seed extract
100 mg
*
Betaine (trimethylglycine)
100 mg
*
L-tryptophan
100 mg
*
Olivex® olive fruit extract
80 mg
*
Sesame seed extract
50 mg
*
L-theanine
50 mg
*
White peony (Paeonia lactiflora) root extract
50 mg
*
AstaPure® Haemotococcus pluvialis microalgae extract
(3% astaxanthin)
33 mg
*
γ-Oryzanol
25 mg
*
Uridine (as uridine-5'-monophosphoric acid disodium salt)
25 mg
*
Grapefruit whole fruit extract
20 mg
*
Vineatrol®20 grapevine extract
20 mg
*
Saffron stigma extract
15 mg
*
Lycopene
4 mg
*
Quercetin (as quercetin dihydrate)
2.5 mg
*
RDA = standard recommended daily intake based on a daily intake of 2000 kcal.
* RDA unknown
Additional ingredients:
Hypromellose, organic rice concentrate, organic rice extract mix
Olivex® is a trademark of Grap'Sud.
AstaPure® is a registered trademark of Algatechnologies Ltd.
KSM-66® is a registered trademark of Ixoreal Biomed Inc.
VINEATROL is a registered trademark of ACTICHEM.
Allergy information
No allergens listed
Store in a cool and dry place, away from light.
Neurohacker Collective Qualia Night is a food supplement in the category of herbal preparations and is not a substitute for a varied and balanced diet and/or healthy lifestyle.
Warnings:
Keep out of reach of children.
Do not exceed recommended dose.
Do not use if outer seal is broken or damaged.
If you are undergoing treatment for a medical condition or if you are pregnant or lactating, please consult your medical practitioner first.
Manufacturer
Neurohacker Collective, LLC
179 Calle Magdalena Suite 100
Encinitas
CA 92024
United States
Imported by
LiveHelfi
d'n Office
Loopkantstraat 25
5405 AC Uden
The Netherlands