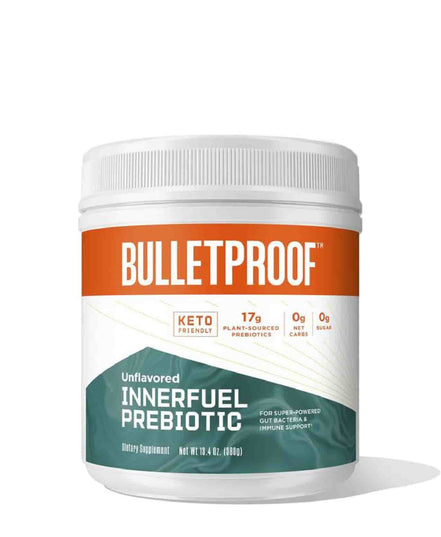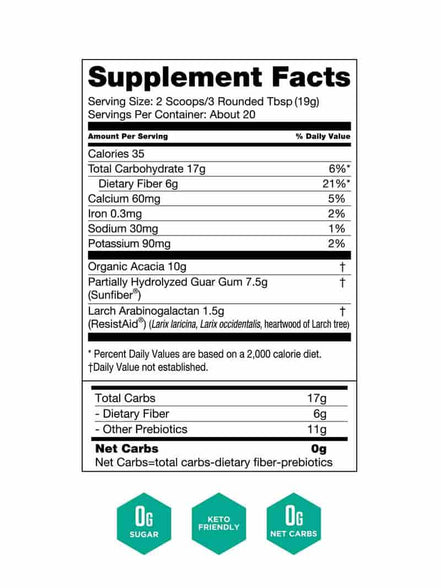 Shipping across Europe
We ship to 32 countries in Europe
InnerFuel Prebiotic
Bulletproof InnerFuel Prebiotic with clinically investigated prebiotic fibres from Acacia, Larch and Guar. Nutrition for healthy intestinal bacteria. Dissolves in water and has no taste. A pot of 380 grams is sufficient for approximately 20 servings.
Regular price
Sale price
€54,95
Unit price
per
---
Fast delivery throughout the EU
We ship to 32 countries
Bulletproof InnerFuel Prebiotic: Varied dietary fibre for good bacteria
Prebiotics are nutrients (often vegetable fibres) for beneficial intestinal bacteria that contribute to human health. These bacteria help with our digestion and keep the intestines healthy. Prebiotic fibres provide a balanced mix of intestinal bacteria that contribute to normal bowel movements.
Not all dietary fibres provide a good diet for healthy intestinal bacteria. This is why it can be difficult to incorporate prebiotic fibres into your daily diet. In that case, supplementing with prebiotics is an easy solution. In addition, you of course want a supplement that supports your bowel movements perfectly and does not have an unpleasant side effect, such as a bloated feeling.
Three plant-based, clinically investigated fibres
Bulletproof InnerFuel Prebiotic contains three natural, high-quality prebiotic fibres derived from acacia, larch and guar. These fibres have been selected to be gentle on the intestines and not to cause unwanted side effects. The mix of these prebiotics also provides variation that maintains the balance of the intestinal bacteria. In this way, you maintain healthy intestinal bacteria without inconvenience.
An additional advantage is that the larch fibre also contains useful polyphenols.
Easy to dissolve and with a neutral taste
Large fibres in prebiotics can change the mouthfeel of drinks in an unpleasant way. Bulletproof InnerFuel Prebiotic contains a selection of shorter fibres that dissolve clear in water, do not change the texture and have no taste. This means you can add InnerFuel to any drink or meal without noticing it.
Sugar-free and suitable for a ketogenic diet
The only carbohydrates in InnerFuel are fibres. By definition, people cannot digest prebiotic fibres and therefore they don't get any energy from these in the form of carbohydrates. That means that these prebiotics contain hardly any calories. Without sugar and digestible carbohydrates, this prebiotic is also suitable for a low-carbohydrate or ketogenic diet
All the benefits of Bulletproof InnerFuel Prebiotics
3 natural, high-quality fibres from acacia, guar and larch
Gentle on the intestines
Prebiotics to feed healthy intestinal bacteria
Dissolves completely in water and has no taste: can be added to any drink or meal
Sugar-free: Suitable for a low-carbohydrate or ketogenic diet
Ingredients & Instructions
Mix 1 to 2 scoops of Bulletproof InnerFuel Prebiotic per day into your Bulletproof coffee, smoothie or favourite drink. Start with 1 scoop if you are using prebiotics for the first time. Slowly increase your quantity to 2 scoops per day. The recommended dosage of 2 scoops is equal to 3 round tablespoons or 19 grams.
One pack of Bulletproof InnerFuel Prebiotic contains 380 grams, sufficient for approximately 20 servings.
| Nutritional value per serving | 19 g | % RI |
| --- | --- | --- |
| Energy | 35 kcal | 2 % |
| Total carbohydrates | 17 g | 7 % |
| - Fibres | 6 g | * |
| - Other prebiotics | 11 g | * |
| Calcium | 60 mg | 8 % |
| Iron | 0.3 mg | 2 % |
| Potassium | 90 mg | 5 % |
| Sodium | 0.03 g | * |
| Ingredients per serving | 19 g | % RI |
| --- | --- | --- |
| Acacia (organic) | 10 g | * |
| Guar gum (partially hydrolysed) [Sunfiber®] | 7.5 g | * |
| Lariks Arabinogalactan (Larix laricina, Larix occidentalis heartwood from Larch tree) [ResistAid®] | 1.5 g | * |
RI = recommended daily reference intake based on a daily intake of 2000 kcal.
* RI unknown
Sunfiber® is a registered trademark of Taiyo International, inc. ResistAid® is a registered trademark of Lonza.
Bulletproof InnerFuel Prebiotic is a dietary supplement in the fibre category and is not a substitute for a varied and balanced diet and/or a healthy lifestyle.
Keep dry and cool.
Warning
Do not exceed the recommended dose.
Do not use if the package seal is damaged when purchased.
If you are under treatment for a medical condition, if you are pregnant or are breastfeeding, consult your doctor before use.
Keep out of reach of children.
Manufacturer
Bulletproof 360, Inc
1750 112th Avenue NE
Suite C-424
Bellevue, WA 98004
United States
Imported by
LiveHelfi
d'n Office
Loopkantstraat 25
5405 AC Uden
The Netherlands