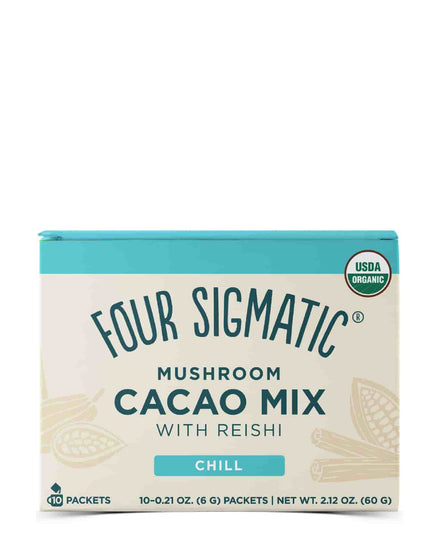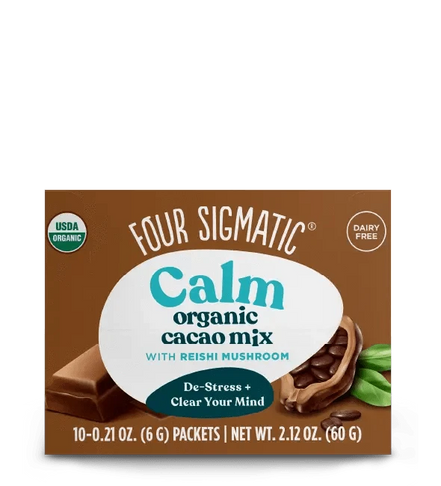 Shipping across Europe
We ship to 32 countries in Europe
Mushroom Hot Cacao Mix with Reishi (Organic)
Four Sigmatic Reishi Mushroom Hot Cacao Mix is a powder mix to quickly make a hot chocolate drink with the mushroom reishi. The mix contains reishi extract that provide calm and relaxation. Contains 10 packets per box.
Packaging may vary.
Regular price
Sale price
€20,95
Unit price
per
---
Fast delivery throughout the EU
We ship to 32 countries
Why reishi & cacao?
Mushrooms have been used for centuries by ancient cultures for their health benefits. But not everyone can appreciate their bitter taste. Four Sigmatic Mushroom Hot Cacao allows you to enjoy a nice cup of hot cacao with the benefits of the mushroom reishi. The cacao and reishi work very well together and are combined with spices that deepen the flavour and relaxation benefits of reishi.
Benefits of Four Sigmatic Reishi Mushroom Hot Cacao Mix
Reishi (500 mg)
Four Sigmatic Mushroom Hot Cacao with reishi is made with pure log-grown reishi mushroom. It contains 500 mg of the most potent red reishi extract with at least 30% polysaccharides (15% beta-glucans) and 2% triterpenes. This product does not contain any starch, sugars or fillers of any kind.
Reishi contributes to a normal blood cholesterol and provides energy with fatigue and tiredness.
To ensure that you can get the most out of this mushroom, a process of dual-extraction has been performed to make this normally hard-to-digest product more bioavailable. Using alcohol and water extraction, all of the fat- and water-soluble compounds have been made bioavailable. After removing the alcohol and concentrating the extract, it is sprayed dry into a powder form.
Only the fruiting bodies of the red reishi have been used so that you are getting the most potent strain of the Ganoderma species. The mushrooms are grown in real linden logs cut from the wild forest, ensuring that the red reishi is as effective as can be. The mycelium (the root of the mushroom) has not been used in this product.
All of the power has been allowed to concentrate into the actual mushroom before being processed with the state-of-the-art dual-extraction method.
Cacao
Cacao is rich in minerals, vitamins, and useful plant polyphenols. High-quality cacao has many health benefits and is also very tasty when used right. This cacao was grown in Indonesia and is minimally processed.
Coconut sugar
Coconut sugar is a mineral-rich and low-glycemic alternative to processed sugars. Coconut sugar is made by evaporating coconut water. What remains, is the coconut sugar. A single portion of Mushroom Hot Cacao only contains 2.5 grams of sugar for a hint of sweetness and a nice flavour.
Cinnamon
Cinnamon works very well with chocolate and gives the chocolate drink more depth and a satiating feeling.
Cardamom
This ayurvedic herb adds a great flavour to the mix.
Stevia
A pinch of stevia adds some extra sweetness to compensate for the bitterness of reishi. The high-quality concentrated stevia extract gives a sweet flavour without a metallic aftertaste.
Four Sigmatic Reishi Mushroom Hot Cacao Mix is
GMO-free
Paleo
Vegan
Gluten free
No fillers
Easy to prepare and convenient for travel.
Ingredients & Usage
Espresso style: Add the content of one packet to 100 mL of hot water. This gives a very intense chocolate flavour as Four Sigmatic intended.
Creamy: If you prefer a milder flavour, add a creamer product such as almond/coconut milk or normal milk. You can also add butter with a blender, like Bulletproof Coffee.
In other preparations: You can add the mix to other beverages and desserts to add a deep chocolate flavour.
Take Four Sigmatic Reishi Mushroom Hot Cacao as an after-dessert drink or as a tasty treat when you crave something sweet. You can also use this beverage to relax, for instance in the early evening to wind down.
Nutritional value per packet (6 g)
| | | |
| --- | --- | --- |
| | | RI |
| Calories | 25 | 1% |
| Total fat | 1 g | 2% |
| Total carbohydrates | 4 g | 1% |
| - Sugars | 2 g | 1% |
| Protein | 0 g | 0% |
| Salt | 25 mg | >1% |
RI = recommended daily reference intake based on a daily intake of 2000 kcal.
* RI unknown.
Ingredients: Cacao powder, coconut sugar, reishi dual-extract, cinnamon powder, cardamom extract, reb b (stevia extract). Contains nuts (Coconut).

Warning:
If you are undergoing treatment for a medical condition or if you are pregnant or lactating, please consult your medical practitioner first.
Made in the United States.
Manufacturer
Four Sigmatic Foods Inc.,
1450 2nd St,
Santa Monica, CA 90401
United States
Imported by
LiveHelfi
d'n Office
Loopkantstraat 25
5405 AC Uden
The Netherlands