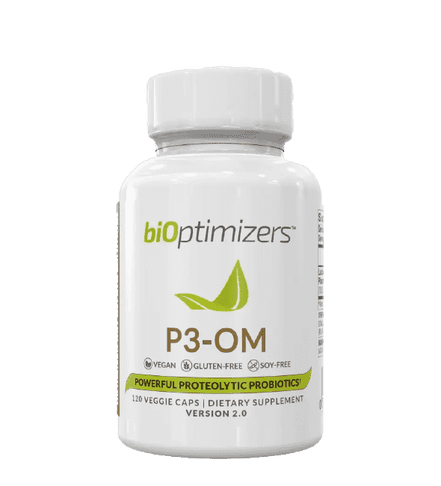 Shipping across Europe
We ship to 32 countries in Europe
P3-OM
BiOptimizers P3-OM probiotic with Lactobacillus plantarum. 2.5 billion CFU per capsule. Long shelf life. 120 capsules per jar. Packaging may vary.
Regular price
Sale price
€68,95
Unit price
per
---
Fast delivery throughout the EU
We ship to 32 countries
Why should you take probiotics?
A probiotic (pl. probiotics) is a supplement with living bacteria that contribute to your health. Many probiotics are naturally found in fermented foods such as pickled cabbage and yogurt. Probiotics are often resistant to stomach acid and come alive in the intestines, where they do most of their work. Some bacteria colonise the intestines and become part of your own intestinal flora. Other probiotics are only short-term visitors, but still perform work during their temporary presence.
BiOptimizers P3-OM: powerful protein-digesting probiotics
BiOptimizers provides the probiotic Lactobacillus plantarum bacteria in their P3-OM supplement. P3-OM stands for Powerful Proteolytic Probiotics. This patented line from L. Plantarum has the ability to digest proteins.
The L. Plantarum in P3-OM have a long shelf life because they are freeze-dried. This keeps the bacteria inactive until they get water again. Each capsule contains 2.5 billion live bacteria (Colony Forming Units).
All the benefits of BiOptimizers P3-OM
L. Plantarum: probiotic bacteria that occur naturally in fermented food
2.5 billion CFU per capsule.
Passing probiotic: does not remain in the intestines
Adapted line from L. Plantarum with proteolytic properties
Long shelf life due to freeze-dried, inactive bacteria
Ingredients & Usage
Take 1-2 capsules with each meal and 1-2 capsules between meals.
One jar of BiOptimizers P3-OM contains 120 capsules.
Ingredients per dose
1 capsule
% RDA
Lactobacillus plantarum OM
(2.500.000.000 CFU)
250 mg
*
RDA = recommended daily reference intake based on a daily intake of 2000 kcal.
* RDA unknown
CFU = colony forming units = number of viable bacteria
Other ingredients:
Fructooligosaccharides, stabilised rice bran, plant-bases capsule (plant cellulose and water)
BiOptimizers P3-OM is a dietary supplement in the probiotics category and is not a substitute for a varied and balanced diet and/or healthy lifestyle.
Keep dry and cool.
Warning
Do not exceed the recommended dose.
Do not use if the package seal is damaged when purchased.
If you are under treatment for a medical condition, are pregnant or breastfeeding, consult your doctor before use.
Do not use if you suffer from a stomach ulcer or stomach infection.
Keep out of reach of children.
Manufacturer
BiOptimizers USA Inc.
5470 Kietzke Lane, Suite 300
Reno, NV 89511
United States
Imported by
LiveHelfi
d'n Office
Loopkantstraat 25
5405 AC Uden
The Netherlands