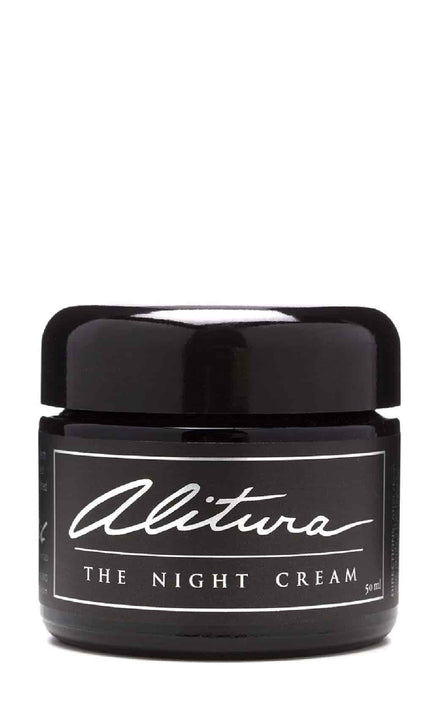 Shipping across Europe
We ship to 32 countries in Europe
Night Cream
Night Cream created by Andy Hnilo, as featured on the Bulletproof Radio. Replenish moisture, condition and repair skin and stimulate collagen growth. Contains 50 ml.
Regular price
Sale price
€79,95
Unit price
per
---
Fast delivery throughout the EU
We ship to 32 countries
The development of Alitura Night Cream
This night cream was developed by Andy Hnilo. He became known after an interview on Bulletproof Radio in which he talked about his accident and how he managed to recover. In that interview, he talked about his self-developed face cream and mask. Questions from listeners came as much to the composition that, with the support of Dave Asprey, has decided to bring it to market.
Andy Hnilo is a biohacker, actor and model. When he was at home to recover from his accident, he had plenty of time to study the possibilities to hasten his recovery with nutrition. The knowledge he gained thereby, he applied to the development of his own skincare line.
His goal was completely natural skin care using only the finest ingredients. For that, he uses herbs, oils and butter from around the world. Every time he tested the effect of a specific ingredient on his skin. From his perspective ""as it works for me, why should it not work for others?"", he let the result try by his friends and their friends. He used their feedback to improve his products. So it is a skincare line from a biohacker!
Benefits of Alitura Night Cream
Alitura Night Cream is the synergy of Hyaluronic Acid, Plant Derived Stem Cells and potent Anti-Oxidants.
Our goal for the Night Cream was to seek out the most effective, skin energising ingredients in an effort to solve three of the most common skin issues.
Replenish lost moisture through hydration
Condition and repair damaged skin
Stimulate collagen growth
We've always believed our best opportunity to achieve this is by applying a rich combination of ingredients before we go to bed, usually laying in the same position for hours. We meticulously formulated the Alitura Night Cream with cutting edge ingredients from all around the world with the intention to repair, correct and maintain the health of your skin at night while you sleep. I've combined 10% plant sourced hyaluronic acid with two highly sought after plant stem cells cultures, Edelweiss and Gardenia. It is formulated in a base of botanical extracts, superfoods, herbs and unique essential oils to round out a team of ingredients working together to leave you with a firm and youthful complexion. We are so happy to present our Alitura Night Cream.
Ingredients & Usage
Extra Virgin Olive Oil*
Helichrysum Hydrosol*
Hawaiian Beeswax*
Pracaxi/ Acai Oil blend**
10% Hyaluronic Acid
Purified Water
Andiroba Oil**
Buriti Oil**
Raw Manuka Honey
Cacao Butter*
Rose Hip Seed Oil*
Royal Jelly
Edelweiss Stem Cells
Colostrum
Gardenia Stem Cells
Colostrum
Co-Q 10
Clover Extract*
Chaga Mushroom Extract**
Chlorella Extract
Camu Camu Extract**
Schisandra Extract**
Essential Oils (c*, Madagascar Vanilla**, Neroli*, Lemon*, Sea Buckthorn*, Geranium*)
* Organic Ingredients ** Wild Harvested
Bottled In Miron Glass- "Preserved by the bottle, not by Toxins""
Blocks Harmful x-rays
Only allows Infrared and Violet lights through which enhance the effects of the product
No toxic preservatives in the formulation
Durable glass that protects bio-energy
Disclaimer
This is an American product. The claims about the effect of this product have not been evaluated by the US Food and Drug Administration (FDA). The product is not intended to diagnose, treat, cure or prevention of diseases.
Manufactured in the USA.
Supplier
Alitura Naturals
504 Solway Street
Glendale, CA
91206
United States
Imported by
LiveHelfi
d'n Office
Loopkantstraat 25
5405 AC

Uden
The Netherlands