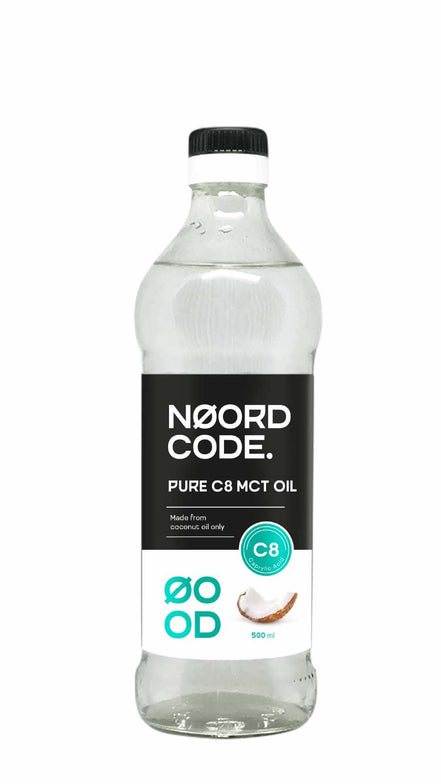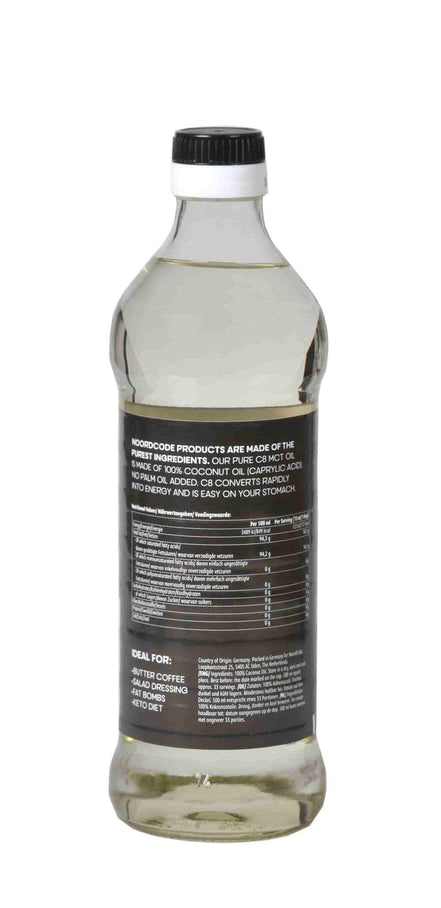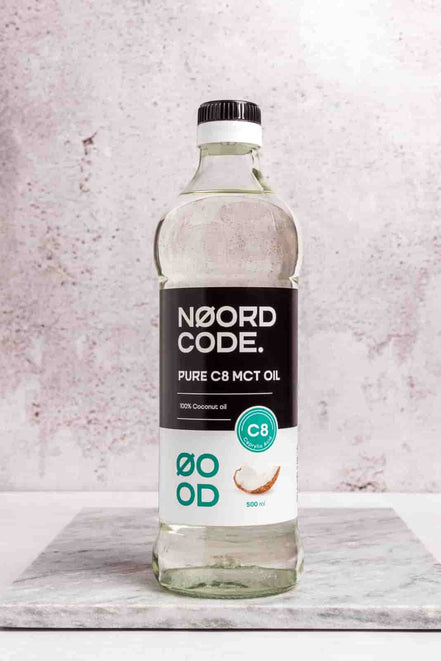 Shipping across Europe
We ship to 32 countries in Europe
Pure C8 MCT Oil
100% C8 MCT from coconuts. Converts rapidly into energy. No palm kernel or rapeseed oil added. Lab-tested. Flavourless and odourless. In a glass bottle. Contains 500ml.
Regular price
Sale price
€27,95
Unit price
per
---
Fast delivery throughout the EU
We ship to 32 countries
NoordCode Pure C8 MCT Oil
MCTs stands for medium chain triglycerides: fatty acids that range in length from 6, 8, 10, or 12 carbons. MCTs can be derived from coconut, rapeseed or palm kernel oil. The most precious and appreciated MCT oil is Caprylic Acid (C8) which is found in very small percentages within raw coconut oil. C8 is also called Caprylic Acid or Octanoic Acid.
Noordcode Pure C8 MCT Oil is a 100% pure C8 MCT from coconut oil.
Why Noordcode Pure C8 MCT Oil?
100% C8 MCTs
No palm kernel or rapeseed oil added
For extra energy from fat
Lab-tested
Flavourless and odourless
Fits perfectly into ketogenic or LCHF diet
Sustainable sourcing
In a glass bottle
"Purest Ingredients" is one of Noordcodes' core principles. 100% C8 coconut oil means that Noordcode Pure C8 MCT Oil does not contain any palm kernel-, rapeseed oil, chemicals or preservatives. It is as pure as it can be. To make sure that the quality meets Noordcodes' high standards, their products have been lab tested.
The coconuts come from the Philippines and Sri Lanka and are produced using sustainable agriculture. The coconuts are processed to MCT oil in a high-quality facility in Germany. The gentle but efficient production process preserves the same high-quality features that natural coconuts have.
Noordcode Pure C8 MCT Oil comes in a glass bottle, so no worries about BPA!
Ingredients & Usage
Use 1 tablespoon (15 ml) Noordcode Pure C8 MCT Oil up to 3 times per day. Start with smaller dosages (1 teaspoon) and slowly increase over time, as your body gets used to it. Too much of MCT oil at once can cause stomach issues, especially when taken on an empty stomach.
Noordcode Pure C8 MCT Oil is liquid at room temperature. Use NoordCode MCT oil as an additional source of energy. Mix Noordcode Pure C8 MCT Oil into your coffee, tea, smoothies, or use it in salad dressings, sauces, or cooking. Not recommended for use in high heat over 160 degrees Celsius.
One bottle of NoordCode Pure C8 MCT Oil contains 500 mL, sufficient for 33 servings.
| Nutritional value per portion | 100 g (% RDA) | 15 mL (% RDA) |
| --- | --- | --- |
| Energy | 900 kcal (45%) | 128,3 kcal (6%) |
| Fats | 100 g (143%) | 14,3 g (20%) |
| o Saturated | 100 g (500%) | 14,3 g (72%) |
| o C8 triglycerides | 99 g (*) | 14,1 g (*) |
| Carbohydrates | 0 g (0%) | 0 g (0%) |
| Protein | 0 g (0%) | 0 g (0%) |
| Salt | 0 g (0%) | 0 g (0%) |
RDA = standard recommended daily intake based on a daily intake of 2000 kcal.
* RDA unknown
Ingredients:
Medium Chain Triglycerides from coconut (99% Caprylic Acid)
Allergy information
No allergens listed
Store in a cool and dry place, away from light.
Noordcode Pure C8 MCT Oil is a dietary supplement that falls within the category of Fats and is no replacement for a healthy and balanced diet and/or lifestyle.
Warnings:
Keep out of reach of children.
Do not exceed recommended dose.
Do not use if outer seal is broken or damaged.
If you are undergoing treatment for a medical condition or if you are pregnant or lactating, please consult your medical practitioner first.
Made in Germany.
Supplier
NoordCode
Loopkantstraat 25
5405 AC Uden
The Netherlands