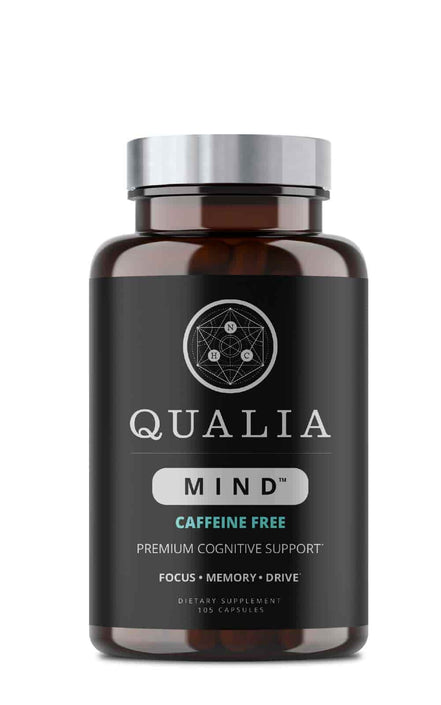 Shipping across Europe
We ship to 32 countries in Europe
Qualia Mind Caffeine Free EU
Neurohacker Collective Qualia Mind EU Caffeine Free is the most complete nootropic stack supplement without caffeine. For mental performance. With 25 vitamins, minerals, herbal extracts and other useful substances. 105 capsules for 3 weeks.
Regular price
Sale price
€99,00
Unit price
per
---
Fast delivery throughout the EU
We ship to 32 countries
Neurohacker Collective Qualia Mind Caffeine Free EU
Neurohacker Collective's most complete nootropic stack

For mental performance
For energy

European formula of Qualia Mind with Coenzyme Q10
Qualia Mind without caffeine
105 capsules, for 15 servings and 3 weeks of use
The most complete nootropic stack
Qualia Mind is a nootropic stack supplement. Nootropics are supplements that support mental performance. Nootropics can contain compounds like vitamins, amino acids, fats, herbs, mushrooms, and extracts.
Qualia Mind is a stack supplement due to the stacking of ingredients with similar or synergistic effects. A stack supplement is easy to use because the ingredients have been combined beforehand.
Qualia Mind Caffeine Free contains 25 natural ingredients. The combination and ratios have been carefully tested for the best possible potency.
Also available with 90 mg of caffeine
Qualia Mind is also available with 90 mg of caffeine per dose from Coffeeberry extract. You can use it when you don't take caffeine with coffee in the morning or want the extra caffeine. Apart from the caffeine, the formulas do not differ.
European formulation with Co-Enzyme Q10
The original Qualia Mind formula contains PQQ from a manufacturer that is not allowed to supply the European market. Neurohacker Collective therefore uses Coenzyme Q10 for the European formula. PQQ and coenzyme Q10 contribute to similar functions in the body. This maintains the function of Qualia Mind in this area.
Benefits of Qualia Mind
Mental performance and nervous system function
Contribute to normal mental performance.
Vitamins B1, B3, B5, B6, B12, and C, Bacopa monnieri†, Rhodiola rosea† and Mucuna pruriens†
Contribute to a normal nervous system function.
Vitamins B1, B3, B6, B12, and C, and Rhodiola rosea†
Vitamin B5 contributes to a normal synthesis and metabolism of steroid hormones, vitamin D, and some neurotransmitters.
Energy, Fatigue and Tiredness
Contribute to a normal energy-generating metabolism.
Vitamins B1, B3, B5, B6, B12, and C
Contribute to the reduction of fatigue and tiredness.
Vitamins B3, B5, B6, B12, and C
Immunity and Antioxidants
Contribute to a normal immune system function.
Vitamins B6, B12, C, and D, and Mucuna pruriens
Have antioxidant effects.
Vitamin C, Bacopa monnieri†, and Mucuna pruriens†
† Health claim subject to approval by the European Commission.
Additional Benefits
100% Natural ingredients
Suitable for vegans
Gluten and GMO-free
Made in accordance with cGMP (current Good Manufacturing Practices) guidelines
Neurohacker Collective Qualia Supplements
Qualia is the supplement line of the Neurohacker Collective, an organisation dedicated to promoting mental performance. Their products also target organs and processes outside the brain. Every part of the body involved in mental performance falls within their area of interest.
Qualia supplements are carefully formulated based on scientific research into each ingredient.
Ingredients & Usage
For best effect, take 7 capsules daily with a glass of water immediately after getting up. If this causes discomfort, take the dose with breakfast.
Take Qualia Mind Caffeine Free preferably in the morning and not more than 12 hours before sleeping.
Designed for 5 days use per week
Qualia Mind Caffeine Free is designed to be taken 5 days a week and 2 days off. The break days do not have to be consecutive as long as you take 2 days break each week.
Use alongside other Qualia supplements
Qualia Mind or Qualia Mind Caffeine can be used in combination with any other Qualia supplement.
One package of Neurohacker Collective Qualia Mind EU Caffeine Free contains 105 capsules, sufficient for 15 portions / 21 days.
Ingredients per serving
7 capsules
% RI
Vitamins
Vitamin B1
(Thiamine HCl)
50 mg
4545%
Vitamin B3
(Niacinimide)
50 mg
313%
Vitamin B5
(Calcium Pantothenate)
50 mg
1000%
Vitamin B6
(Pyridoxal-5-phosphate)
20 mg
1429%
Vitamin B12
(Methylcobalamine)
1000 µg
40.000%
Vitamin C
(Ascorbic acid)
100 mg
125%
Vitamin D3
(Cholecalciferol)
[VegD3®]
25 µg
500%
Amino acids & peptides
 
Acetyl-L-Carnitine HCl
500 mg
*
DL-Phenylalanine
300 mg
*
N-Acetyl-L-Tyrosine
250 mg
*
L-Theanine
200 mg
*
Taurine
200 mg
*
Uridine-5'-
Monophosphate
disodium salt
160 mg
*
Fats
Alpha GPC
200 mg
*
Citicoline (CDP-choline)
[Cognizin®]
150 mg
*
Choline (as alpha-GPC
and Cognizin®)
110 mg
*
Phosphatidylserine
(from sunflower lecithin)
100 mg
*
DHA (Docosahexaenoic
acid from algae)
[AvailOm®]
80 mg
*
Plant extracts & isolates
 
Artichoke leaf extract
(4% cynarin and
related flavonoids)
400 mg
*
Bacopa monnieri
leaf extract
300 mg
*
Rhodiola rosea root
extract (3% Rosavins &
1% Salidrosides)
300 mg
*
Mucuna pruriens
seed extract
100 mg
*
Celastrus paniculatus
seed extract
60 mg
*
Ginkgo biloba leaf extract
(24% glycosides)
50 mg
*
Coenzyme Q10
(ubiquinone)
30 mg
*
Coleus forskohlii root
extract (20% Forskolin)
20 mg
*
Huperzia serrata leaf
extract (1% Huperzine A)
5 mg
*
RI = Reference Intake.
* RI unknown
Ingredients:
vitamins, minerals, amino acids, herbal extracts, R-lipoic acid sodium salt, co-enzyme Q10 (ubiquinone), capsule (hypromellose), silica, calcium silicate, L-leucine, rice flour
Cognizin® is a registered trademark of Kyowa Hakko Bio Co.
VegD3® is a trademark of Avlaan Inc. VegD3® is a plant based, vegan vitamin D3 exclusively distributed by AIDP, Inc.
AvailOm® is a trademark of Evonik Operations GmbH
Allergy information
No allergens listed
Store dry, cool, away from light and outside of reach of young children.
Dietary. Category: Vitamins, Minerals, Amino acids, Fats, Herbs.
A varied and balanced diet and a healthy lifestyle are important. Food supplements are no substitute for a varied diet.
Warnings:
Do not take if

you're under 18 years old
take an MAO inhibitor, SSRI, or any other psychiatric medicines
are pregnant or nursing
sensitive to caffeine
you have Phenylketonuria (contains phenylalanine)

Do not exceed recommended dose.
Do not use if outer seal is broken or damaged.
If you are undergoing treatment for a medical condition or if you are pregnant or lactating, please consult your medical practitioner first.
Made in the United States.
Manufacturer
Neurohacker Collective, LLC
179 Calle Magdalena Suite 100
CA 92024 Encinitas
United States
Imported by
LiveHelfi
d'n Office
Loopkantstraat 25
5405 AC Uden
The Netherlands